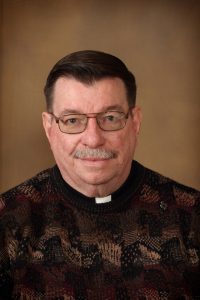 Good day from St. Joseph's Indian School.
What a whirlwind!!!!  Our 40th Annual Powwow on September 17th is now in the books; but a great time was had by all.
Due to a lot of prayers, God blessed us with great weather and a nice turnout of benefactors and guests.  We had 465 friends, donors and guests register!
51 visitors took part in our Reservation Bus Tour,
120 friends attended our Meet and Greet which gave them a chance to ask questions of students and staff,
175 supporters enjoyed breakfast and a tour our Development Office to see how the mail is handled,
117 guests were given a tour of the school by student tour guides,
362 visitors attended our annual Tiyospaye banquet and
58 alumni registered and looked over the items in the Alumni booth to help match up names with faces of past classes.
On Saturday the 17th, visitors and guests toured some of our campus Homes and attended the Blessing of the Ground for our new Health and Family Services Center.
During the powwow's Grand Entry, veterans were invited to come and march in behind the colors and then were introduced with their name, rank and branch of service as a way of thanking them for their service to our country.
163 dancers, of whom 69 were St. Joseph's students, took part in the powwow.  Their regalia and dance steps impressed and wowed all day!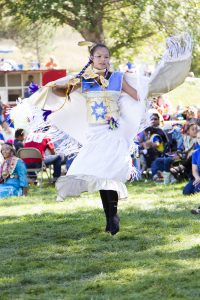 Of St. Joseph's 69 dancers, 16 won prize money. Treshawn, Tarles, DaeOnna and Josette received 1st and 2nd place in Junior Boys' and Junior Girls' Fancy Dancing, respectively.
During Intertribal Dances, which are open to any powwow attendee, several of our guests joined our powwow participants in the powwow circle.
After the powwow, there was a Lakota Mass followed by a meal and the awarding of prize money. 624 friends, families and supporters joined in the celebratory meal together.
It truly was a great powwow for all involved!
View St. Joseph's official 2016 powwow video HERE. Enjoy!
Next year's powwow is slated to happen on September 16, 2017—mark your calendars!
As we move into Autumn, the leaves are beginning to change.  I hope you'll have the chance to see the beauty of Nature expressed in the leaves and the cool breeze.
May God's blessings continue to be with you.
Fr. Anthony Kluckman, SCJ
Chaplain
PS  "Flat Francis" was off this past week in order to enjoy the powwow festivities, but he did want to—along with St. Joseph's President, Mike, and myself—congratulate St. Joseph's powwow royalty!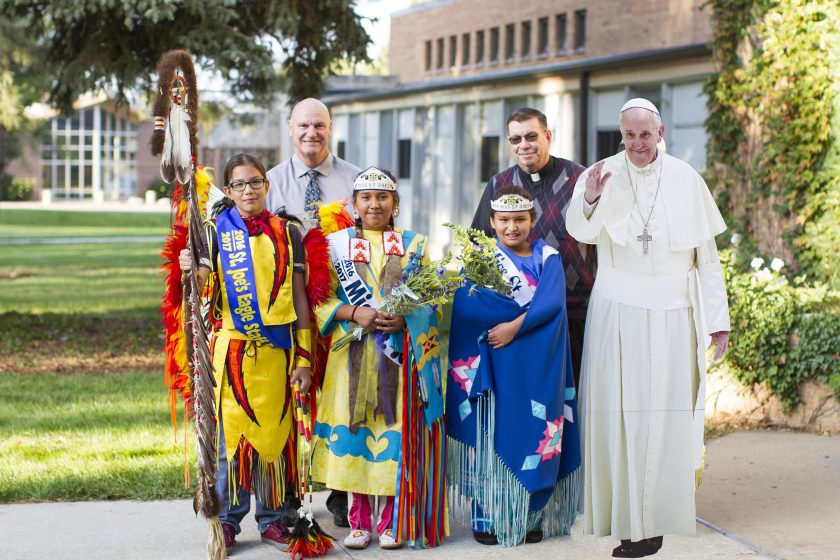 (Eagle Staff Bearer – Tarles; Miss St. Joseph's – Diamond and Jr. Miss St. Joseph's –  Mersayis.)