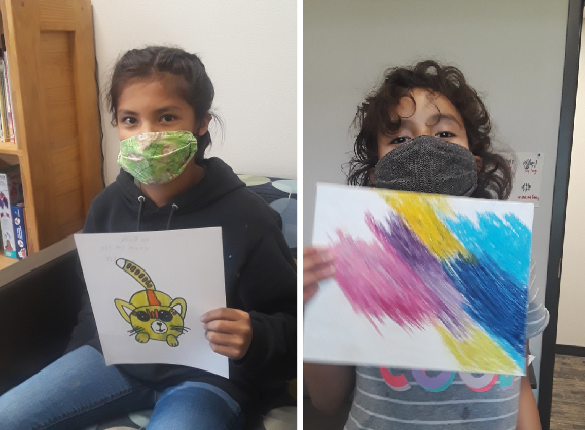 As one of our Family Service Counselors, Nicole, puts it: one of the hardest things about the pandemic is not being able to keep in touch with those you love. At least not as much, or in the same way, as you might have done before.
The elderly in nursing homes are some of the people hurting the most. To keep them safe, most nursing homes are not allowing visitors. This can cause the residents to become very sad and lonely.
"The students that I counsel and I wanted to do something to help alleviate the loneliness they might feel," said Nicole. "I contacted a nursing home in Sioux Falls and asked if they would be interested in receiving drawings and coloring pages from some students. They were thrilled and loved the idea!"
One of the 20 campus homes at St. Joseph's Indian School also joined in and had their students color pictures.
"We were able to send each of the 60 residents a coloring page or drawing," said Nicole. "At this time, our society needs to be shown people care, and the kids at St. Joe's have big hearts and a passion for helping others!"
It's because of similar caring hearts that St. Joseph's is able to care and provide for approximately 200 students every year. Presenting opportunities for students to give back in the manner they are given to is very special.
To see up-to-date happenings at St. Joseph's Indian School, follow us on Facebook at stjo.org/facebook.