If you were to call someone on the phone, the most common response you'd expect to hear upon their answer is, "Hello, this is [insert name]."
But Jacob Lacota is not your typical 22-year-old. He answers the phone a bit differently …
"T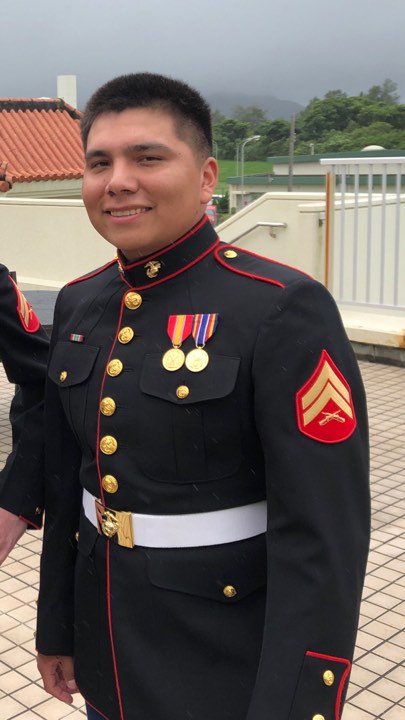 he motivated, the dedicated, the Corporal Lacota of the United States Marine Corps."
Jacob is exactly that. This alum of St. Joseph's Indian School is motivated. He's dedicated. And it's partially those traits that led to his desire of a life in the military after graduating from St. Joseph's high school program.
"I saw the way my recruiter carried himself and his demeanor and I found it really inspiring," he said. "I wanted to be a person like that, and I thought the way to do that was to become a Marine."
It's a decision Jacob is so glad he made. His military path has taken him to Okinawa, Hawaii and now to Camp Lejeune in North Carolina. For him, it's been an unbelievable journey filled with new adventures, people and culture — something new and exciting nearly every day.
"Every second, every moment — I've enjoyed it all," said Jacob. "It's been a great journey so far."
Jacob credits St. Joseph's for helping him along the way. He said St. Joseph's staff and programs instilled in him a high level of maturity — a trait that has definitely helped him throughout his military experience. Some of his houseparents were also veterans who helped him by listening and encouraging him whenever he needed it.
"St. Joseph's was a huge help to me and a lot of kids who have gone to school there," said Jacob. "I'm so thankful for my time there."
And, even though he graduated high school four years ago, he still feels St. Joseph's presence.
Our Transition Specialist and other staff members periodically reach out to make sure Jacob has everything he needs to be successful and just to catch-up. He also receives care packages filled with goodies and well wishes to let him know St. Joseph's is thinking about him and praying for him.
"It makes me feel good when I hear from St. Joseph's. Every now and then I get a care package and those bring a bit of joy and happiness to me — I can always eat, right?" he said, laughing. "But on a more serious note, it reminds me of why I joined in the first place — to help those I care about and anyone else who needs it."
Although this ever-changing world has brought with it some unease and uncertainty, Jacob said it hasn't stopped his motivation and dedication. In his words: the mission comes first.
Although he can't be completely sure what the future holds for him, Jacob currently wishes to re-enlist and become a drill instructor. We have no doubt he will reach that goal and any other goal he sets his mind to …
Because, like he says in his phone greeting, this motivated and dedicated corporal marine is not likely to let any obstacle stand in his way.
A special philámayaye — thank you —  to all the service men and women as we celebrate Veterans Day on November 11. We appreciate your motivation and dedication to serving our country!
Thank You for Your Service!
Did you know there are many alumni and staff members who have served in the military and received honors for their accomplishments?
Allow us to introduce you to Martina, Zach and Irene in celebration of Veterans Day this month.
Pfc. Martina Hawk, alumna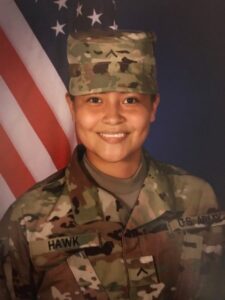 Martina attended St. Joseph's Indian School for 11 years and was very involved in the St. Joseph's and Chamberlain High School communities before graduating and joining the armed forces.
During her service in the Army, Martina has won numerous awards. In 2017, she was awarded the Army Achievement Medal two times for her commitment to excellence. In fact, during PTA Range Density week, Pfc. Hawk qualified on multiple weapons and weapon systems, helping raise the company's readiness numbers. She qualified Expert on her assigned weapon, M4, as well as Expert in the CROW mounted M240B. Because of her knowledge and consistently setting the example, she was able to teach and coach two other soldiers to qualify on the CROW mounted M240B. Pfc. Hawk's motivation, willingness to learn and dedication to her team's success bolstered the morale of soldiers around her.
Pfc. Zach Benson, St. Joseph's staff member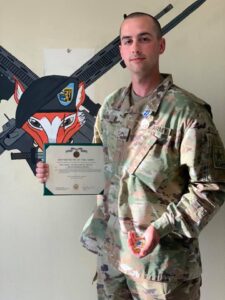 St. Joseph's lifts up Pfc. Zach Benson, the sole recipient of the Honor Award of Outstanding Leadership at the Foxtrot Company, 1st Battalion, 48th Infantry Regiment graduation in Fort Leonard Wood, Mo., on April 9, 2020. This prestigious award exemplifies honor, initiative and loyalty. Benson was one of six individuals from his class of 215 who graduated with honors. He also received a Challenge Coin presented by his commanding officer to honor his service above and beyond the call of duty.
Benson has worked at St. Joseph's Indian School for nearly three years and is a bindery operator in the Tipi Press print shop.
Pfc. Irene Grassrope, alumna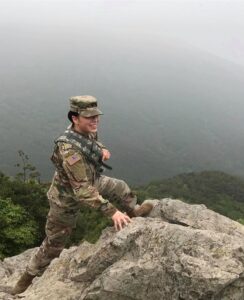 Irene attended St. Joseph's for 12 years — from first grade through her senior year. She was awarded the Army Achievement Medal during her station in Korea.
The medal was awarded for, "Exemplary Service while serving in the largest multi-national exercise in the world, ULCHI FREEDOM GUARDIAN 2017." The award stated, "Your commitment to excellence, hard work and continuous professional proficiency resulted in overall mission success. Your expertise and dedication to duty are in keeping with the finest traditions of military service and reflect great credit upon yourself, the 75th Training Command, and the United States Army."