Before I was ordained, I sang in several different kinds of choirs. Because of this, I know how much music – if done well – can help deepen people's spirit of prayer. Our singing at church has been getting quieter and quieter lately, so we decided to try to animate the kids. Nate, a houseparent and guitar player, picked out the upbeat song "Lord I Lift Your Name on High" for the closing. I told the students, "Singing is like praying twice, and we're getting a little weak, so I want to really hear you on this closing one". I grabbed a guitar, joined the choir and strummed along. It worked wonderfully well, with a noticeable increase not only in volume, but people actually participating. KP, one of our high school students said, "Church should be like that all the time"! It can be when many people give full, conscious and active participation. It can happen with slower, more meditative songs as well, as long as people try singing along.
The spirit also moved when we celebrated the Scrutinies and prayed for protection against evil for our RCIC Native American students as they get closer to baptism. Some giggled a little bit when I made the blessing near each child's heart with the oil of catechumens. We also presented them with holy cards of the Creed and Our Father, which they clearly prayed when reciting them in front of the congregation.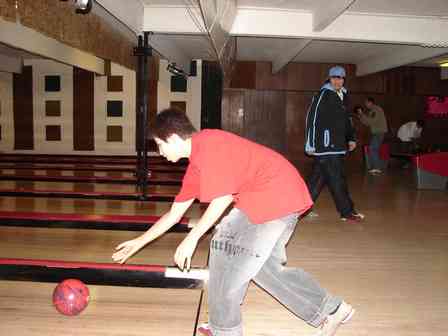 Mentor's bowling was this afternoon. Some days I forget altogether I've I had surgery and go about life as normal. I haven't bowled for about a year, but didn't think anything about it until I rocked the ball back, bent down and put all my weight on my bad right foot. I almost lost my balance completely and the ball quickly angled right into the gutter. I was a little more cautious the next time to the lane, but was able to make some adjustments and still have fun. I have to keep exercising my foot and leg in different ways. But the fact I forget that my nerves are weak and try to go about normal activities, tells me that I'm making good and gradual process.
Fr. Dominic invited Fr. Anthony and I to supper for the Kiwanis Club annual roast beef dinner fundraiser. I enjoyed seeing both townsfolk and St. Joseph's folks. Waiting in line with one of the people I knew only a little, I found out that besides running his business, he had also been trained as a spiritual director. We had a great conversation about the different spiritual and developmental tasks between the first and second halves of our lives – more than expected when waiting for a tasty meal. I enjoy talking sports or weather but it's fulfilling when you can engage in conversations of more substance with people.