Holiday greetings from St. Joseph's Indian School!
SNOW
The good weather South Dakota has been blessed with took a harsh turn when snow, wind and falling temperatures all hit at once. Just across the Missouri River, nearby towns were hit with 3 inches of snow.
A special thank you to our maintenance staff who were hard at work early in the morning to keep our campus open.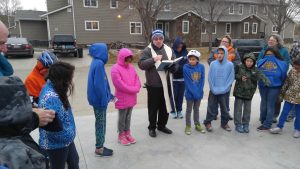 The temperatures had dropped and the wind had come up the day before, which made for a chilly blessing for our new outdoor basketball court, donated by a benefactor from the Chicago area. The court will be a new spot for our students to develop their skills and have some fun.
The Homes involved had wanted to dedicate the court earlier and have a picnic, but the date kept getting pushed back and- as you can see from the photo- it was not picnic weather as students and staff gathered.
One positive of the snow was it showed how adaptable our students are. As the snow fell, they realized outdoor basketball and bike riding were done for the year, but they knew right where to go to get their sleds and remembered how to roll the snow so as to start making snowmen.
GRADUATION
Last week, our 5th graders graduated from the Lakota Circle of Hope program. In its 4th year at St. Joseph's, the curriculum aims at helping young people avoid going down the road of drugs, alcohol, gang activity and suicide while helping them reconnect with their Lakota culture and value system so as to find the strength and perseverance needed to meet today's life challenges.
Some of the topics covered have been decision making, peer pressure, drugs, alcohol, establishing healthy boundaries, being accountable for your own actions and creating a safety plan. Each 5th grader also had to write about their dreams for the future and how they plan to achieve them.
Guests and family members were in attendance as the graduates showed off their diplomas, received shirts and enjoyed some cake and goodies. Due to the success of the program, a curriculum for 6th graders has be added so as to keep the students focused on their futures.
FAMILY NIGHT
Every year, St. Joseph's holds "Family Night"—a night of fun, food and fellowship before our students leave for Thanksgiving Break.
This year, the students took part in different 'Minute to Win It' activities before heading to the dining hall for a traditional Thanksgiving meal.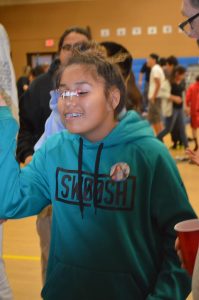 In 'Minute to Win It', students were grouped by families with siblings and cousins sitting together, as you can see in the photo with the various numbers on the wall.
That grouping then formed a team to engage in several challenging activities such as pumpkin hike, shoe box relay and getting a cookie from your forehead to your mouth without touching it—all expected to be accomplished in one minute or less.
Points were given for the family teams that were able to accomplish their given task.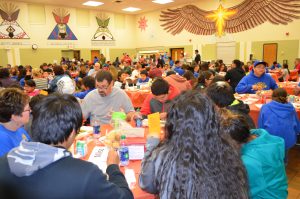 After the excitement of doing 'wild and crazy' things, the students and staff went to the dining room for a turkey dinner.
When the students leave this week for the Thanksgiving Break, they'll each be taking a food package home to contribute something to their family Thanksgiving Meal.
BASKETBALL
The girls' basketball teams have been keeping up a hectic pace. A week ago, our 4th, 5th and 6th graders played Chamberlain and won two out of three. On Monday, the results were the same on our home court as the 5th graders struggled getting shots to go in, but the 4th and 6th graders won their games. On Tuesday, the 5th and 6th graders welcomed PILC (Pierre Indian Learning Center) to our home court.
Yesterday's game was special since many parents were in the crowd, preparing to take their child home for Thanksgiving. It was great having them in the stands as we came away with two wins.
SCHOOL PROJECT
Before wishing you a Happy Thanksgiving, I would like to share a science class assignment one of our 4th graders, Uriah, completed.
He and his classmates were asked to write about someone they are thankful for who has touched their lives. He picked Jesus.
When asked why Jesus as opposed to someone he is in daily contact with, Uriah responded "many in the field of science do not believe God is real" and he wanted to show them He is.
Uriah wrote, "I am thankful for the oxygen, trees, grass and humans. I am also thankful for (You) looking out for me and keeping me safe. I am also thankful for (You) giving me a brain and a heart."
Please keep our students in prayer as they travel home for break. Our transport teams have been on the road for students who live a ways away and families who live close have been picking up their children all morning. We hope they all have a wonderful, joyous Thanksgiving with family and friends.
As you gather with family and friends this Thursday, ask yourself what you are grateful to God for. May the blessings of the Great Spirit continue to be with you and yours and, on behalf of the students and staff of St. Joseph's, we hope you have a very Happy Thanksgiving.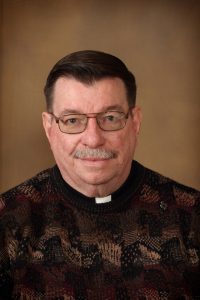 Fr. Anthony Kluckman, SCJ
Chaplain