Wednesday
We had two fun celebrations last Wednesday. St. Joseph's Thrift Store, in downtown Chamberlain, held its Grand Opening. The store has been in operation at the new downtown location for several weeks, but today was the ceremonial ribbon cutting.
The Chamber of Commerce and local papers were on hand to help us bless and dedicate the remodeled building. The checkout counter held a "Wheel of Fortune," where folks spun the wheel and earned an additional discount of 25% – 60%. A small space on the wheel was FREE. While I was there, one man hit it. He saved only $3.00, but he was tickled anyway!
In the evening, our honors banquet included all the A and B honor roll students in first through eighth grades. Staff put together a circus theme, with peanuts and popcorn and animal crackers on the tables, serving as both decoration and a snack before the meal. The Lakota boys and girls enjoyed carnival-type games – popping balloons with darts, ring toss, rubber ducks floating in a tub, where they could win bouncy balls, beads, stuffed animals and the kinds of prizes kids treasure.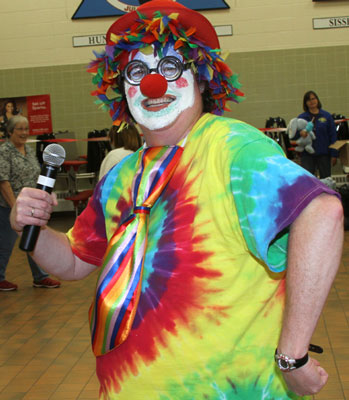 I was in charge of the basketball shooting contest, and had great fun both encouraging and teasing. We want to provide incentive and encouragement, but also extra fun for our Native American students who take their studies seriously, since that is the core of what school is about.
Thursday                                           
St. Joseph's eighth graders preparing for graduation spent the morning in retreat, looking back over their past years at St. Joseph's Indian School and looking ahead to the future, wherever it will take them.
Most will stay with us and continue on the Chamberlain High School, and a few will return closer to home and continue their high school education there. Our counselors presented information about how high school will be different, and listened to their questions and concerns, hopes and fears. At the end of that time, letters from staff members to individual students were passed out – always an affirming and emotional time.
Next, we moved on to graduation practice. A goal of mine is that practice is never longer than the actual ceremony, and we moved through it fairly smoothly. We had a festive lunch and presented students with their eighth grade portraits Class of 2013 t-shirts.
Two of the girls have been at St. Joseph's since first grade, and we acknowledged them with "Lifer" gifts – a gift certificate to a local clothing store. Congratulatory cards from our donors decorated the tables, along with a computer print out of the many wishes and prayers sent to them online.
As the students finished and prepared to go to the movie theater, our staff in the development office stopped in to congratulate them. It gave our kids a chance to thank them for the work they do behind the scenes to make their education and all our programs possible.
For our younger students, this was our last regular school day. At 3:00, all the kids gathered in the gym for the attendance awards. Using soup labels and box tops sent by St. Joseph's donors, we are able to provide special incentives for students to make it back from breaks on time and not miss out on learning opportunities with truancy or absences. The Lakota students earned bicycles to take home with them for the summer, a clothing gift certificate, camera, or MP3 player for their favorite music.  Several parents joined us for the awards and picked up their children as we said goodbye for the summer.