Earlier this month, St. Joseph's fifth grade students, teachers Brock and Ron, and three extra chaperones ventured to Mitchell, South Dakota to visit the Mitchell Prehistoric Indian Village and Archeodome!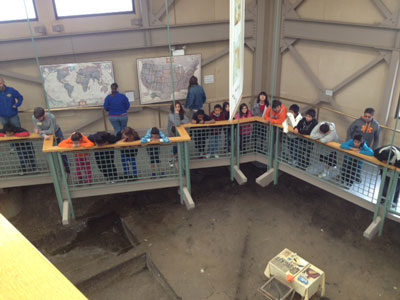 The Mitchell Prehistoric Indian Village is the only archaeological site in South Dakota that is open to the public. The Village is an active research center and National Historic Landmark.
Visitors to the site can see many artifacts that have been excavated during annual digs. Tours of the dig site itself are enclosed in the comfort of the Thomsen Center Archeodome. There are plenty of hands-on activities for children to partake in.  St. Joseph's students sorted through pieces of prehistoric bones, walked through a replica of a traditional lodge, and ended the tour with a chance to throw an atlatl or spear thrower, which was used as a hunting device.