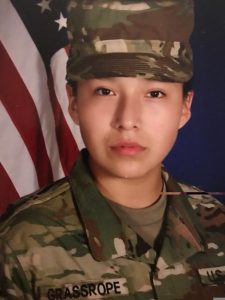 Irene, an alumna of St. Joseph's Indian School's graduating class of 2016, was recently awarded the Army Achievement Medal.
Irene, of Lower Brule, S.D., attended St. Joseph's from first grade through her senior year, graduating from Chamberlain High School in 2016. She is currently stationed in Korea.
We could not be more proud of her!
On September 2, 2017, Private First Class Irene E. Grassrope was awarded The Army Achievement Medal for exemplary service.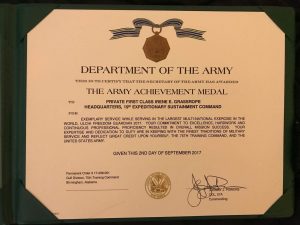 This medal is awarded for "Exemplary Service while serving in the largest multi-national exercise in the world, ULCHI FREEDOM GUARDIAN 2017." The award continues to state, "Your commitment to excellence, hard work and continuous professional proficiency resulted in overall mission success. Your expertise and dedication to duty are in keeping with the finest traditions of military service and reflect great credit upon yourself, the 75th Training Command, and the United States Army."