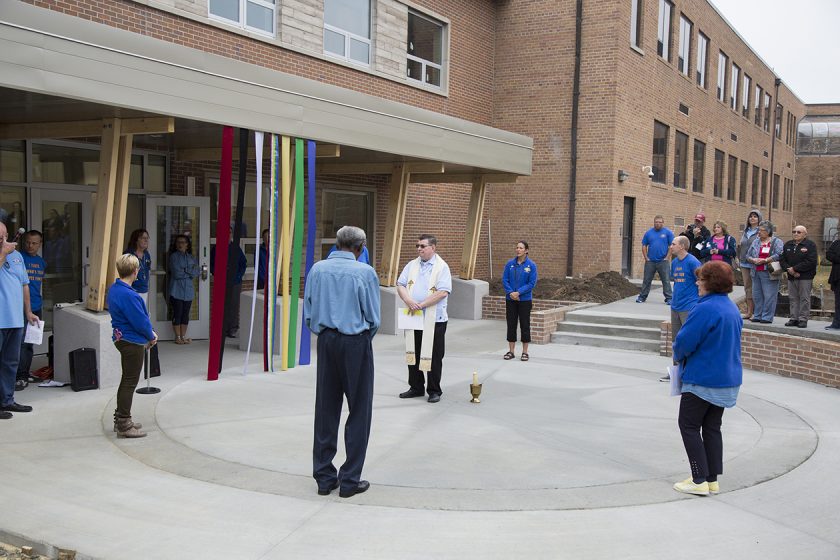 Seven ribbons symbolizing body, mind, spirit, heart, earth, sky and mission floated in the breeze during the St. Joseph's Indian School Health and Family Services Center ribbon cutting and open house, Sept. 15, 2017.
The event began with a few words from St. Joseph's Indian School's President Mike.
"We are deeply grateful to our many supporters who made this facility possible," said Mike. "We are also aware, as we are in the process of putting the finishing touches on this building, of the many people who have labored to make this place possible."
Then, one by one, each of the ribbons were cut by St. Joseph's staff members after a prayer was sent up to the Great Spirit, marking the opening of the health facility. One such prayer was from St. Joseph's nurse Ronda: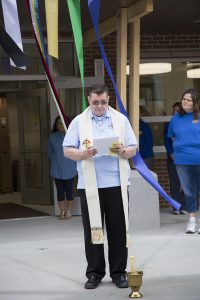 "I offer a prayer for the physical health of students, staff and families we will serve here," said Ronda. "In the words of the prophet Isaiah, 'They that hope in the Lord will renew their strength, they will soar as with eagles' wings; they will run and not grow weary, walk and not grow faint.' This is our prayer for every person in our care."
With the conclusion of the prayers, visitors were given a piece of one of the colored ribbons as a memento. Whenever they see the ribbon, we hope they'll think of St. Joseph's and our Lakota children, and offer up a prayer for our work.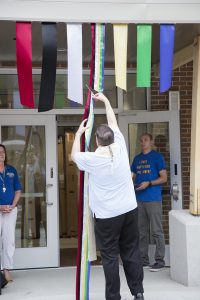 Then it was time for the building tours. As visitors saw during the tours, the new facility still has a short road ahead before it's completely open for staff and student use. Staff members are in the process of moving into their new offices and spaces, and floors and plumbing are also being completed. But, once everyone is settled in, the new Health and Family Services Center will enable St. Joseph's health professionals to better meet the healthcare needs of the 200 Lakota (Sioux) students attending St. Joseph's Indian School, their families and even staff.
After 90 years of St. Joseph's growing and evolving, it's time our health care facility reflected that same growth.
"We give thanks for those who contributed to this building project – for our benefactors, those who planned, those who worked to build it and those who held its vision and worked to make it a reality," said Fr. Anthony during the event. "May this new structure carry our mission well into the future."
If you were unable to attend the 41st Annual Powwow, check out our YouTube channel where you'll find videos documenting the day. For photos, view our powwow Flickr album, or Like us on Facebook for everything in-between!