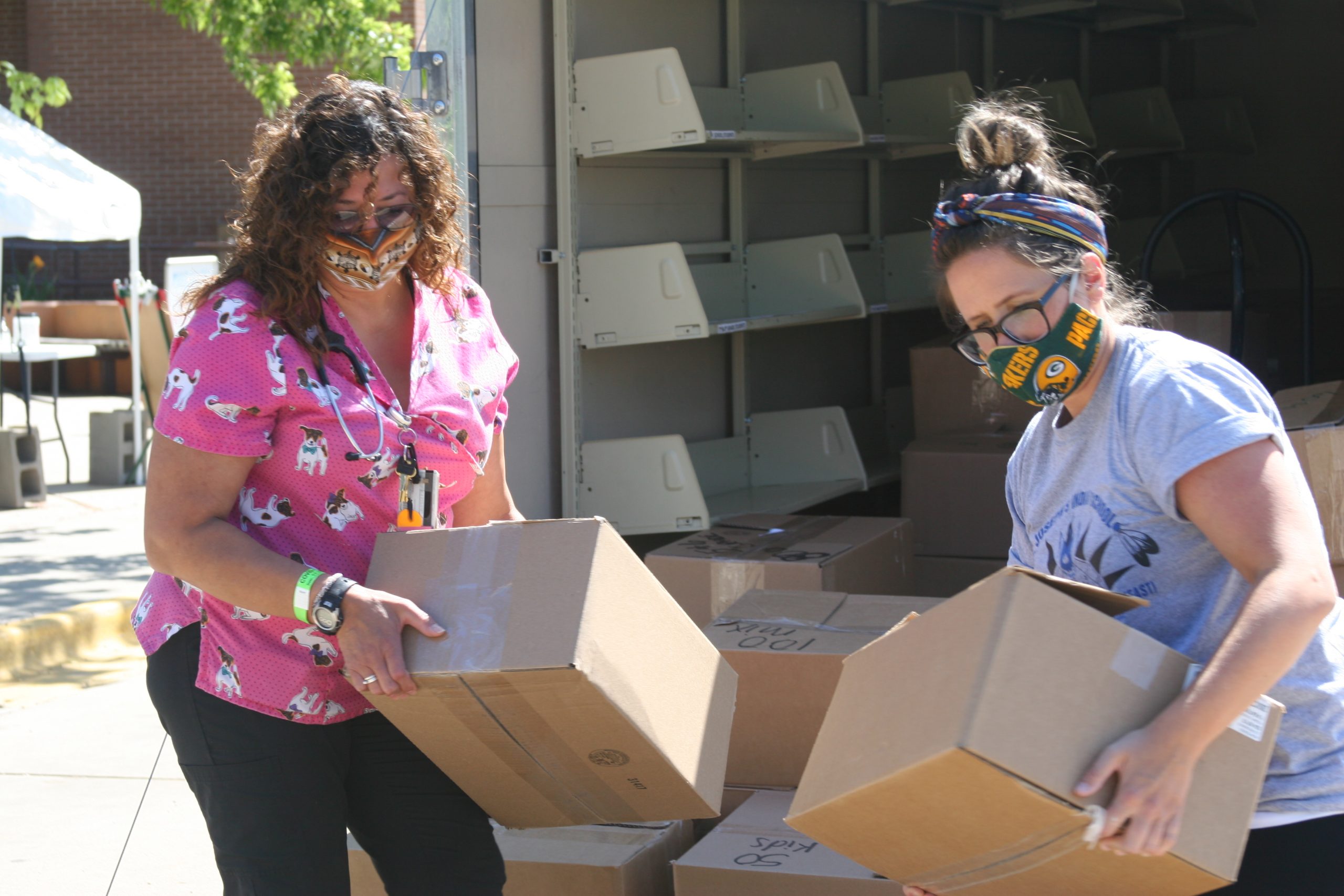 The Bookmobile, an outreach of St. Joseph's Indian School, looked a little different this year.
Normally, the truck and trailer becomes a mini library on wheels that tallies close to 3,000 miles on the road as it moves from place to place. Books are placed on shelves, separated by age and genre, to offer a shopping experience to reservation community members. Hundreds of people stop to visit and take home one, two or an armful of books for themselves and their children.
COVID-19 changed that — or at least it tried.
We knew we weren't going to be able to offer people the chance to flip through books and walk in and around the trailer. But, canceling the Bookmobile was not something we wanted to do. COVID-19 or not, the need was still there.
So, rather than give up, we found a new way to serve. With thousands of boxed books in tow, St. Joseph's Indian School hit the road this summer to continue making our annual Bookmobile runs. The Bookmobile traveled to Ft. Thompson, Lower Brule, Wagner Indian Health Service, Rapid City Tribal Center, Sioux Falls Tribal Center, Kyle, Eagle Butte, Rosebud and Ft. Yates, ND and delivered 9,010 books total. The books were unloaded from a safe distance for people to come and choose in a more spacious environment. CDC guidelines were followed to help make short visits as safe as possible.
People were so excited for the Bookmobile and books at each stop were a welcomed sight.
Of course, each book drop location had its share of adventurous moments. Mother Nature flexed her muscles a few times in the display of several powerful thunderstorms. But for all the hail, rain, lightning and thunder, the warmth of the sunshine was still felt. If not with the weather, with the good deeds St. Joseph's was able to accomplish thanks to so many wonderful supporters.
"There's never a dull moment on a Bookmobile route," said Andy, Alumni Liaison at St. Joseph's who coordinates the Bookmobile program. "People love this outreach and we are so blessed to be able to do this great work."
Finding new ways to supply our services has been the trend for St. Joseph's programs. The Bookmobile experience might not have looked the same and it might not have felt as personable without all the handshake hellos and goodbye hugs. But, hosting the Bookmobile was important, nonetheless. Reading and education are important, especially for underserved communities like those found on reservations. Libraries are a rarity in reservation communities, and the closest one may be more than 50 miles away.
That's why St. Joseph's hasn't stopped and why we will continue finding alternate ways to fulfill our mission to serve Native American children and their families for life — mind, body, heart and spirit.
To watch a video about the Bookmobile (pre-COVID times), visit our YouTube page.