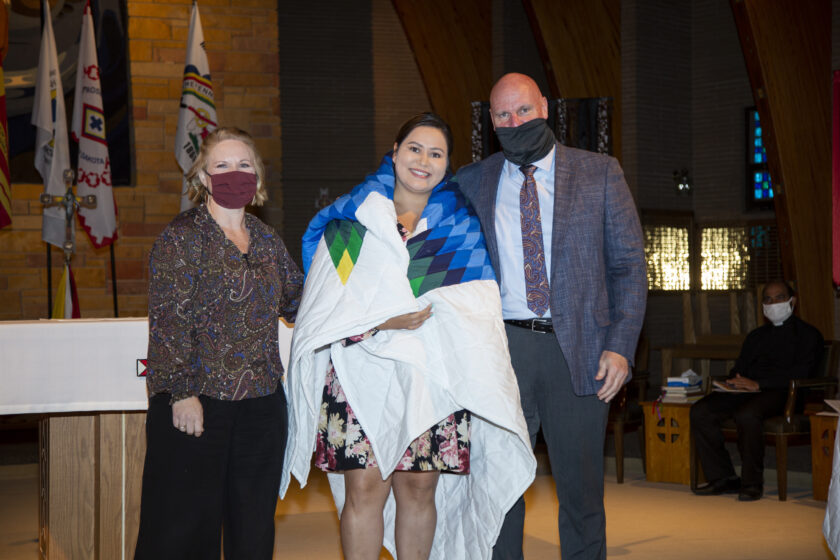 Four nurses nominated separately for St. Joseph's Indian School's Distinguished Alumnus Award were collectively selected as distinguished alumni, representing all health care workers and their role as beacons of hope throughout this pandemic year.
The school celebrated Savannah Weddell Aumau (1998-2006), Andrea Archambeau (2001-2010), Mary Jo Lends His Horse Dupris (1991-1997) and D'Kera Grassrope (2001-2012) at eighth-grade graduation on May 28.
Weddell Aumau started her career as a certified nursing assistant at a nursing home in Wagner, S.D.
Nurses there noticed her passionate care for the residents and told her to pursue a career in nursing. On a whim, she moved to Oklahoma, where she landed close to Murray State College in Tishomingo and its excellent nursing program. A full-time student, Weddell Aumau rounded out her weeks working 32 hours each weekend as a certified nursing assistant.
After becoming a registered nurse, family drew her back to South Dakota, where she took up travel nursing, beginning in Sioux Falls. Travel nursing took her to Bismarck, N.D., Yankton, S.D., Kodiak, Alaska and Milwaukee, Wis.
Tired of travel nursing, she took a job in Anchorage, Alaska, for four years. Weddell Aumau was at Alaska Native Medical Center at the outset of COVID-19. There she experienced the initial long waits for tests and the daily protocol changes of the early days of the pandemic.
While in Anchorage, she met and married her husband. They have a one-year-old son and recently moved to Las Vegas, Nev., to be closer to his family. Weddell Aumau currently works on a fast-paced, short-stay unit at Mountain View Hospital.
Archambeau began her career as a corrections officer and dispatcher in the Charles Mix County Sheriff's Office.
There, she worked full-time while taking nursing courses at Ihanktowan Community College. Transferring to Southeast Technical College for nursing, she graduated as a licensed practical nurse in 2015. After working as the school nurse at Marty Indian School, she decided to further her education. In December 2020, she received an associate degree in nursing from Northwest Iowa Community College and passed her boards.
She currently works for Avera@Home in Wagner and Gregory, S.D. Her love of nursing led her back to school this year. She is on target to graduate with a Bachelor of Science in nursing this December.
Archambeau says, "I have high hopes to continue my education and become a nurse practitioner in the next couple of years."
Lends His Horse-Dupris received her associate degree in applied science in practical nursing in 2012 from United Tribes Technical College in Bismarck, N.D.
Upon graduation, she passed her nursing boards and is a licensed practical nurse. Since then, she has been at Cheyenne River Health Center in Eagle Butte, S.D. Lends His Horse-Dupris finds nursing a rewarding career.
"Every day, you feel you have accomplished good," she said.
Raised by her grandparents, she remembers her grandfather's advice: "When you become an adult, choose a path to help your people someway somehow." That is why she chose to return to the Cheyenne River Sioux Reservation for her career. Someday, she hopes to write a book about her grandfather, who had a master's in education and was a principal, social worker, counselor and cowboy.
She said that between her grandparents and her "second home" at St. Joseph's, "I am very lucky. I had a very rich upbringing."
Lends His Horse-Dupris spoke sorrowfully of the loss of so many elderly speakers of the Lakota language during the pandemic and noted the sadness she felt to see all of the people around the world suffering.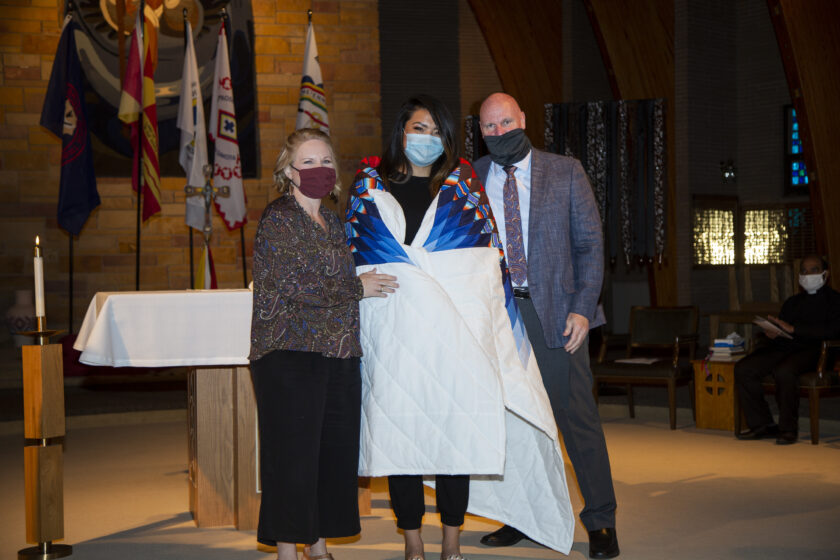 Archambeau nominated life-long friend Grassrope for the award, saying, "She accomplished great things in her nursing and army careers, continues to advance to greater things each day and walks with Sioux pride and dignity."
Grassrope and Archambeau roomed together at Southeast Technical College. Currently, she is in Dakota Wesleyan University's RN to BSN bridge program, working towards her Bachelor of Science in nursing. After graduation in December 2022, Grassrope will sit for registered nursing boards. She has her sights set on a Master of Science in nursing.
After high school, Grassrope enlisted in the U.S. Army as a 74D chemical operations specialist. Following training, she returned to Sanford Medical Center Chamberlain for her first taste of healthcare as a certified nursing assistant, a job she cherished. From her initial passion for geriatrics, she has grown to enjoy all specialties in her current work as a licensed practical nurse. In the Army Reserve, her role has changed to combat medic focusing on battlefield medicine such as trauma and other tactical skills, work she described as "fast-paced but rewarding."
Of nursing, Grassrope said, "It is an ongoing journey of learning honor, humility and a chance to make even the smallest difference in the lives of your patients. That is my 'why.'"
Speaking of her experience at St. Joseph's, Grassrope said, "I am so lucky to have the number of people in my corner that I do … It truly does take a village to raise a child, and I will forever be grateful."
Congratulating the eighth-grade graduates, she said, "This day is for you, and you deserve happiness. High school is a time to focus on forming good habits that will set you up to succeed later on down the road. Don't be afraid to take risks and follow your dreams."
St. Joseph's began giving the Distinguished Alumnus Award in 2006. The award recognizes those who have acted in service to others, participated in activities that have made a difference to the wellbeing of others and/or made a positive contribution to their culture or community.
Visit our website for more great stories about the school's past Distinguished Alumni.