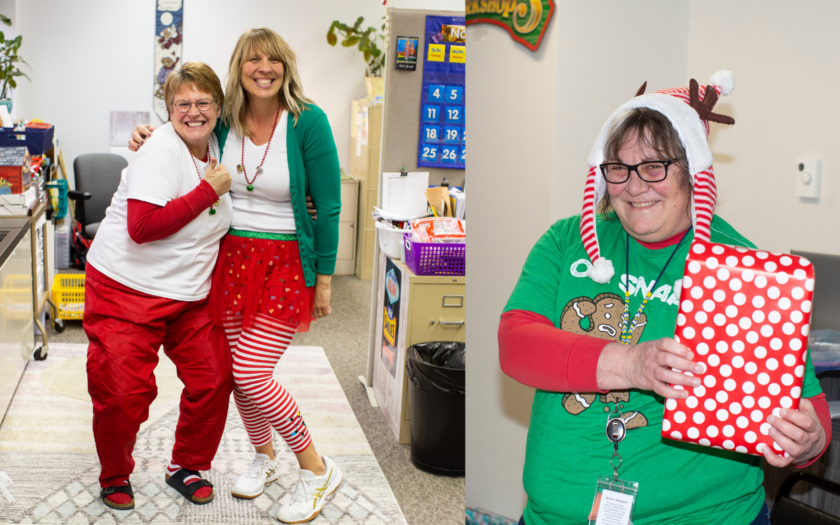 It's funny when things just work out …
Before the beginning of December, St. Joseph's Indian School staff members were looking at the calendar and noticed something interesting: we had exactly 12 school days on the December calendar before students left for Winter Break. It's hard to hear the phrase, "12 Days …" without your brain automatically filling in the blank with "of Christmas."
And so, by this seemingly perfect chance of fate, that's exactly the theme St. Joseph's has embraced this December.
"It seemed fitting that we should use '12 Days of Christmas' as our theme not only to spread holiday cheer and fun throughout our building, but also to coincide with the well-known Christmas carol that celebrates the span between the birth of Christ and Epiphany in Christian theology," said Jessica, St. Joseph's assistant principal.
So, December 1 kicked-off 12 days of celebrating in festive ways:
A "Candy Cane Lane" dress-up day to wear red and white.
Another dress-up day called "White Christmas" where students and staff wore, you guessed it, the color white.
A "Poppin' for Joy" popcorn party.
A day to trade your shoes for slippers and Christmas socks.
And many other festive and fun activities on the other days!
Again, the goal was to spread a little holiday cheer within our school, and boy has it done just that.
"Students have stopped by my office asking what they need to plan for tomorrow and how they can locate Santa hats, or even to proudly show me their 'Who-Hair' with a smile," said Jessica. "Two brothers even said with sparkling eyes, 'I hope we get to keep our Christmas socks to wear again!' I think it is safe to say they have been excited!"
While it's likely no surprise that children would find so much joy in the activities, adult staff members have also embraced the themes. St. Joseph's truly has a great team of educators on board, said Jessica.
"Some really go above and beyond, showing up to work with red and green Christmas ribbon curls in their hair, or the word Believe on the front of their footed snowflake-adorned pajamas," said Jessica. "Many staff members have signed-up to help provide ice cream sundaes with an assortment of toppings to ALL the students in the school — that is A LOT of ice cream and sprinkles! Everyone pitches in and makes the ideas a success!"
Christmas is a time for happiness and that's why creating unified activities, like the "12 Days of Christmas," is important. Christmas at St. Joseph's is filled with anticipation and planning for a holiday break and the celebration of Jesus' birth. But it is also about waiting, as we refrained from decorating until December 9. Now, our halls and classrooms are filled with trees and twinkling lights.
"You may even hear a Christmas story read over the intercom and a class or two enjoying a special Christmas movie during the Christmas party celebrations!" said Jessica.
In the end, times like this remind us all that St. Joseph's is both a community and a family. When we celebrate traditions together, it builds a strong bond in our family — staff and student alike— and in our community on campus.
"It gives us all something to look forward to, and helps makes us all feel connected," said Jessica. "The spirit is alive here, and we are joyful."
To get a glimpse of the Christmas Spirit at St. Joseph's, watch this video.