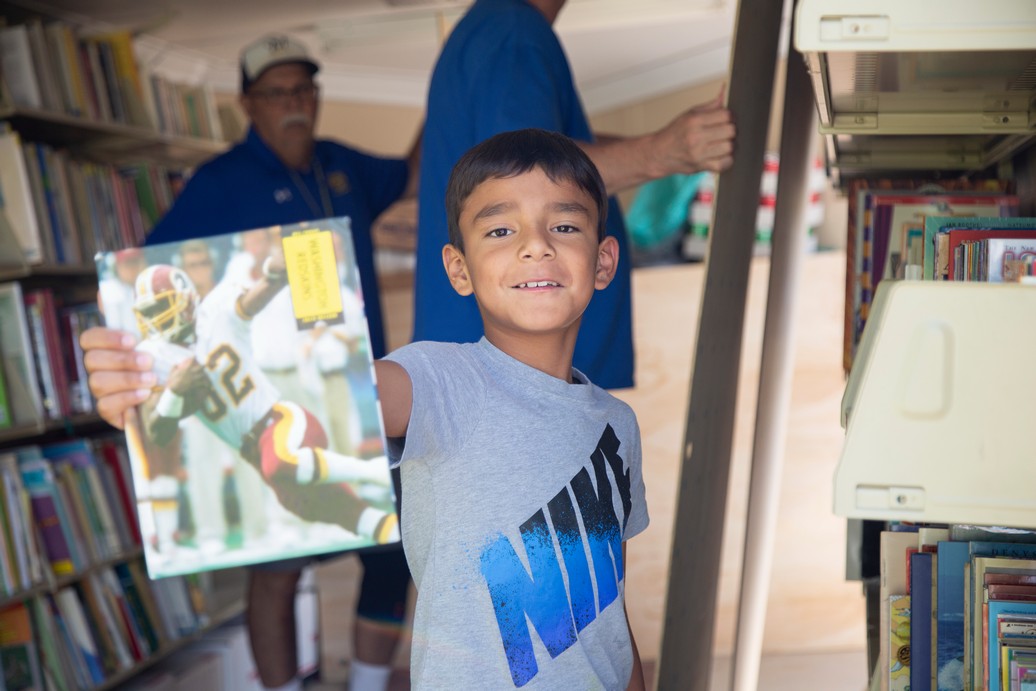 As St. Joseph's Indian School's Bookmobile was setting up for a morning of serving in Fort Thompson on the Crow Creek Indian Reservation, a cheerful voice rang out from a distance. Turning toward the voice, staff members could see it was a woman. She was running and screaming all the way from the road.
"Andy, Andy, Andy!" she hollered until she reached Andy, a 50-year St. Joe's staff member who coordinates the Bookmobile outreach program. He knew the owner of that voice well. For it was Charmaine, a St. Joe's alum who had come to visit and shop for free books for her children and niece; however, she not only found books at the Bookmobile, but she was flooded with happy nostalgia.
"The Bookmobile impacted me because my kids currently go to St. Joe's, so then it kind of brings back a lot of memories," said Charmaine, who graduated from St. Joe's in 2010 after attending first through eighth grades. She was one of 68 alumni who visited the Bookmobile this summer.
Moments like this happen all the time, all summer long, as the Bookmobile made stops in 43 communities, crisscrossing South Dakota distributing free books to people in need. Before it ventured off to Fort Thompson, the Bookmobile was loaded with books, snacks, waters, toothbrushes, toothpaste, and floss — all items distributed at absolutely no charge. Jostling and turning, the Bookmobile trailer and pickup bounced all-around as it drove on the highway to the Crow Creek reservation. After setting up tables, books, boxes and coolers, the Bookmobile was open and ready to give out free items to the public.
Reservation communities in South Dakota are very remote and typically have low economic and recreational opportunities. More specifically, libraries in reservations are a rarity — the closest one may be more than 50 miles away! Thanks to the generosity of others, the Bookmobile opens a whole new world by contributing books and imagination for adults and children. This year, the Bookmobile gave away 16,990 books to 1,689 people who may not be able to afford books or have access to a library. Of the total people, 574 were in PreK-3rd grade, 338 were in 4th-6th grade, 134 were in 7th-12th grade, and 643 were adults.
There was truly a book for everyone with topics spanning from fiction and nonfiction, to educational and cultural.
"I might even learn something from the Native American books too," happily stated Charmaine.
Again, while the Bookmobile was ready to give and serve others, staff members received something in return — smiles, laughs and the rekindling of relationships, such as the encounter with Charmaine. Charmaine looks back fondly on the opportunities that St. Joe's presented to her when she was a student. Charmaine has remained faithful and trusting in the work of St. Joe's by enrolling her kids into the school.
"I love St. Joe's," stated Charmaine. "I think it's a good school and provides good morals values, structures and stability."