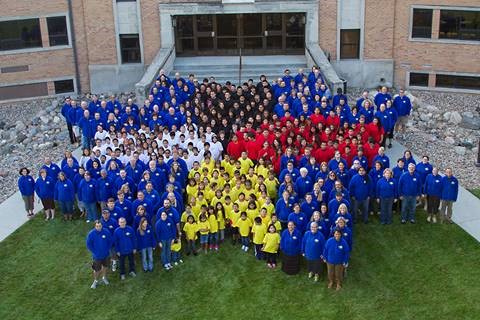 St. Joseph's Indian School is a "2020 Top-Rated Nonprofit" by GreatNonprofits, the leading provider of user reviews of charities and nonprofits.
President Mike Tyrell feels the recognition is a direct result of the hard work of the entire organization and the faithful supporters.
"We are honored to receive a Top-Rated Charity award for the fourth consecutive year from GreatNonprofits. For over 90 years, our mission at St. Joseph's Indian School to care for the whole child – mind, body, heart and spirit – has not only remained intact but also grown stronger," said Tyrell.
The Top-Rated Nonprofit Award is based on the rating and number of reviews that St. Joseph's Indian School received from volunteers, donors and aid recipients.
One reviewer writes, "I have always been amazed at all of the things that the school does for the children, from providing basic needs to education including their culture. The recent equine therapy program has me greatly excited. There are too many great features of this school to write about in this review. I just hope that more people become aware of just how fantastic this school is and decide to start donating to St. Joseph's Indian School."
Executive Director of Development Kory Christianson is thankful for the outpouring of support the organization receives throughout the year.
"This is especially important during a year such as this, when the world is shaken and uncertainty attempts to plant seeds of worry and doubt. To be named a Top-Rated Charity is a wonderful recognition to our staff and also of friends around the world who believe in our mission," said Christianson.
GreatNonprofits is the leading website where people share stories about their personal experiences with more than 1.6 million charities and nonprofits. The GreatNonprofits Top-Rated Awards are the only awards for nonprofits determined by those with direct experience with the charities as donors, volunteers and recipients of aid.