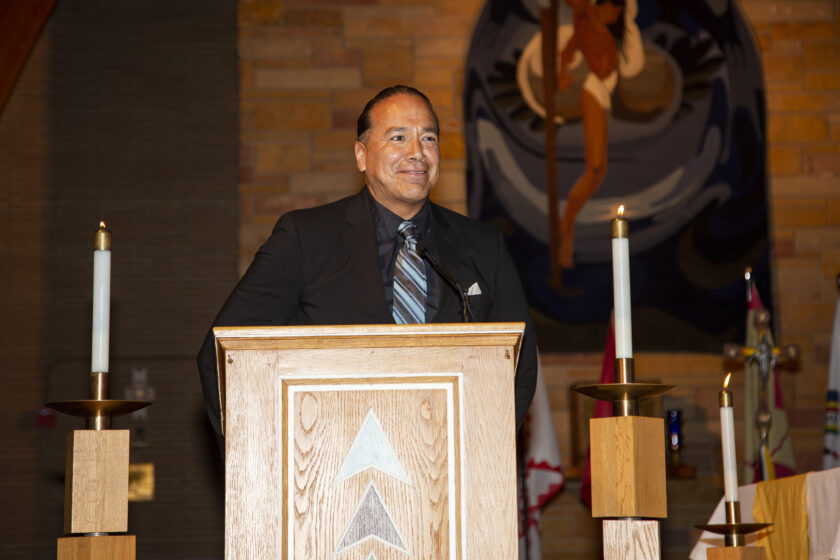 At the eighth-grade graduation ceremony on May 27, Kory Annis, an enrolled member of the Cheyenne River Sioux Tribe, was named the school's 2022 Distinguished Alumnus. Annis attended St. Joseph's Indian School from 1986 to 1992, graduating from the eighth grade in 1989.
At age 19, he began a law enforcement career on the Cheyenne River Reservation in the first and only Social Detox Unit in Indian Country at the time. Transferring to the Corrections Unit, he was promoted to sergeant at age 20 and eventually named acting deputy chief of detention.
At age 23, Annis attended the Indian Police Academy at the Federal Law Enforcement Training Center in Artesia, N.M. He graduated from the program as Outstanding Overall Cadet, the first cadet in history so honored.
He assisted in developing the Police/School Liaison Program, served on the FBI Drug Task Force, worked with troubled youth, promoted suicide prevention, taught the Drug Abuse Resistance Education Program (DARE) and mentored other officers to instruct the DARE Program.
He volunteered as a track and boxing coach in his community for many years.
Alcohol and drug-free all of his life, Annis advocates for the health of mind, body, heart and spirit and works with men in various recovery programs.
"I live a God-centered life," Annis said, "and I hope that my life will somehow honor His holy name and further His purpose here on earth."
He is an active member of Surprise Church, Bismarck, N.D., takes part in Bible study and is in the missional development program there to become a pastor. For 28 years, he studied and participated in traditional Lakota ways with several medicine men and spiritual leaders. He is now responsible for carrying out these teachings and passing them on to the next generation.
He calls himself the "joyful" father of Seven, Destiny, Raven, Alestar, Sonia and Hoksila.
"They have taught more than I could ever teach them," he said. "Through them, I have discovered that there is no greater purpose than to be a dad for a man."
Annis hopes to begin a new chapter in his life this year, working at a treatment center in Bismarck.
Learn more about the Distinguished Alumnus award and see who had received the honor in the past at www.stjo.org.