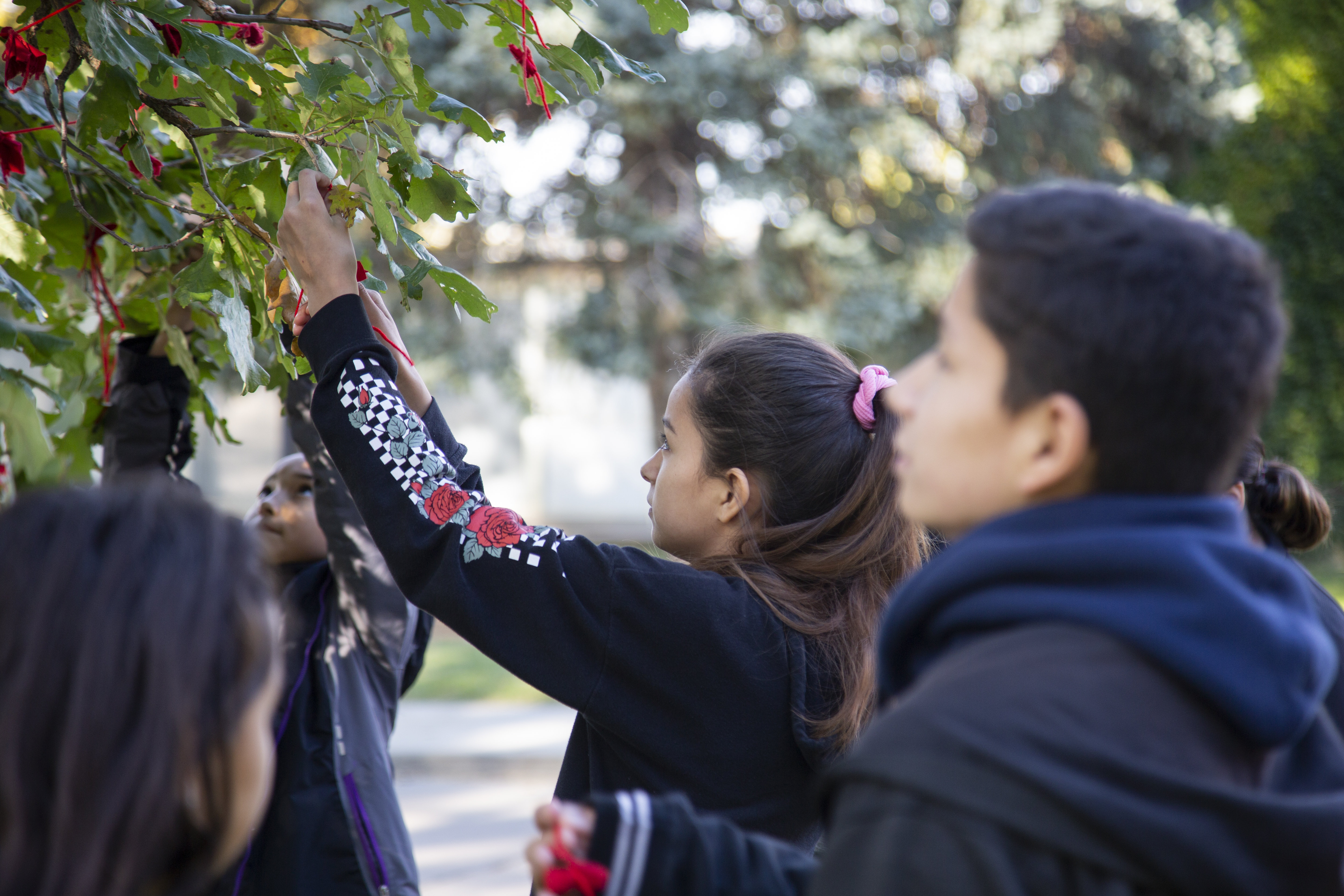 The following is a personal reflection by LaRayne, the Native American Studies teacher at St. Joseph's Indian School.
The smell of čhaŋlí pȟaȟtá — tobacco offerings — made my heart feel many emotions as I quietly tied the prayers of the St. Joseph's Indian School students, staff and donors together for the All Souls Day prayer service.
I cannot take a photo of what I describe (as it is a sacred process), but I will explain it from my heart in a way that I hope you can see, feel, smell and have a small taste of how we combine our Lakota, Dakota and Catholic traditions together for the good of our students.
We adorn a tree branch with prayer ties. The prayer ties are created in the Religion classes. The students are instructed to decorate their red cloth with names of loved ones who have passed on to . Kim, the Religion teacher, is given the task to help students. They quietly ask her to help spell such names as Uŋčí (grandma), Shawn, Blue, Garrett, Lilly, Virgil and the list goes on and on … One prayer tie simply read Mitákuye Oyásiŋ — All my Relatives. The many names are then intertwined and placed on a string together to create a strong line of prayers for All Souls Day.
I have done this for many years, but this year I was moved to share the experience with you. When I make my own prayer ties with real, sacred tobacco there is certain smell of the tobacco that takes me to a place that reminds me of prayer, song, spirituality, strength and the path of walking this Lakota road. We are a tobacco-free campus, so we teach the kids to use other forms of medicine. Our prayer ties are made with the sacred sage that grows in our healing garden on campus. To have the sage so similar to the actual tobacco usually used is powerful.
As I rolled the smoke over my mind, body, heart and soul, as well the materials I was using for the task, I felt centered and ready to link the prayers of our mission together. The pile of red cloth and the hundreds of names decorating the ties created some feelings, because I knew what each one possibly represented.
Each name represented a kinship — a relationship that was strong.  Each name represented memories, knowledge, smiles, tears and a bond so strong that it weakens us to grieve.
I would guess that we do not have one child who hasn't been touched by the death of a loved one. That is rare. Rare is also this moment of sharing prayer with our mission for All Souls Day. When these prayer ties of red cloth filled with prairie sage, names, love and grief are burned, I will again think of you. I will think of how each name and memory is being sent in the form of smoke to the Great Spirit.
— LaRayne
To learn more about the Lakota culture, visit stjo.org/culture.