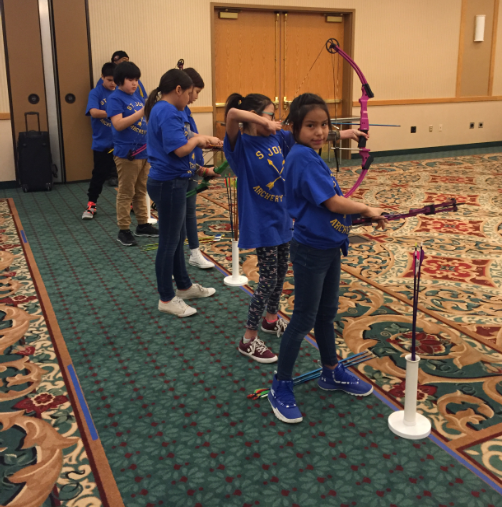 St. Joseph's Indian School students joined over 120 other archery shooters by stepping into the Huron Event Center ready to take aim during the Dakota Oyate Challenge (DOC).
The tournament consisted of three brackets: elementary, middle school and high school. Students were also divided into boy and girl categories. Each student shot 10 arrows from close distance and another 10 arrows farther away to determine their overall score.
Nineteen St. Joseph's students in grades 4th through 12th competed. Seven boys and girls walked away with shiny hardware, while the group as a whole performed very well.
"There are a lot of talented schools who shoot at this tournament and we are very happy to get any place winners – let alone have multiple winners in several divisions," said Evan, St. Joseph's archery coach.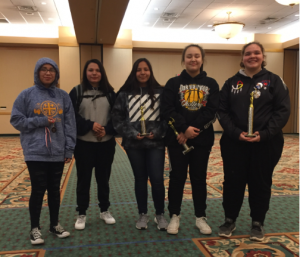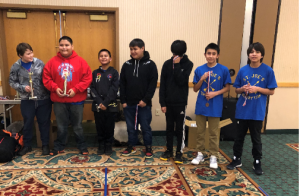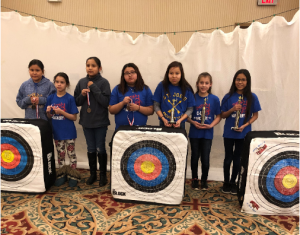 Trophy winners included:
Elementary student, Kaylee A. – 3rd Place
High school student, ShyAnne J.E. – 3rd Place
Medal winners included:
 Elementary student, Kaylee S. – 7th Place
Middle school student, Jackson C. – 7th Place
Middle school student, Collin T.S. – 6th Place
High school student, Paige K.P. – 7th Place
High school student, Lilly F. – 6th Place
List of all other participants:
Andy B., Jerome B.E., Gary W.B., Kenyon M, Lars L., Akicita L.H.B., Wayne R., Wally K.C., Landon T.S., Leslie H., Rhiannon W.P., & Consuelo S.
It's not always easy shooting archery in front of a large crowd, or competing at a tournament of this size. But, Evan said athletes didn't let their nerves get the best of them. They settled in just fine once their arrows started to fly.
"With over 120 shooters you can still shoot very well and not come home with any medals or trophies," said Evan. "We shoot alone all year in the small school gym, so when the bright lights are on and there is a big crowd it's very rewarding seeing students rise to the occasion and show off their hard work."
Archery has been a strong program for St Joseph's that has cultural ties. It also instills a sense of pride in students who might not be as interested in other sports. Students are encouraged to participate in archery at a young age so by the time they reach middle school or high school, they have great success in archery competition.
Learn more about the opportunities for students at St. Joseph's Indian School.