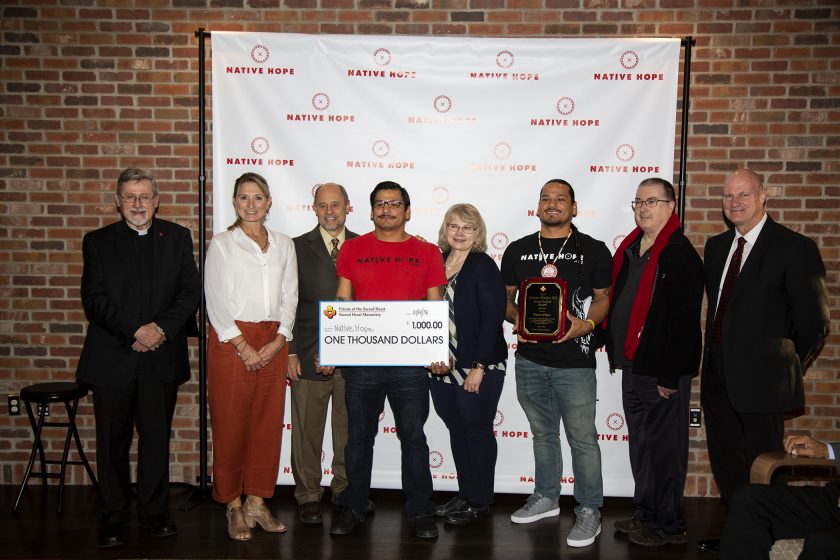 St. Joseph's Indian School is proud to congratulate Native Hope, our sister organization, on being the first recipient of the Johnny Klingler Social Action Award. The award was given by the Justice, Peace and Reconciliation Commission through the Congregation of the Priests of the Sacred Heart.
The mission of Native Hope is to dismantle barriers and inspire hope for Native voices unheard.  The organization is an advocate for the marginalized and voiceless – a true mark of social action – and sex trafficking victims desperately need a voice. Native Hope's work in the field of sex trafficking has brought awareness of the issue to thousands of people through speaking engagements, community events and social media.
"We really became aware of the extent of sex trafficking and associated concerns while attending a conference about violence against women in 2016," said Trisha Burke, Executive Director of Native Hope. "We began to understand how these issues impact Native women and children."
Since learning more about the issues surrounding sex trafficking, Native Hope has begun conducting Red Sand Projects, which includes filling sidewalk cracks with red sand. This visual tool is meant to remind anyone who sees it that the most marginalized people in our communities can't simply be walked over and allowed to fall through the cracks. Red Sand Projects have been used to increase awareness of sex trafficking at various events, including with students at Mitchell Technical Institute in Mitchell, South Dakota; on Chamberlain's Main Street; and in Watertown, South Dakota as part of a "Never in Season" campaign during the South Dakota hunting season. The Native Hope team continues to use Red Sand Projects as a visual teaching tool – touching the hearts and minds of participants.
Native Hope Ambassador Kansas Middletent has largely led the efforts to raise awareness around sex trafficking.
"We are sending a message that women need to be treated better," he said. "I was raised by my grandmother – my unci – who taught me and my brother to use our voices for the right things, even if it sometimes means you are standing alone. I do this work for my grandmother and my adopted mother. Every man comes from a woman. Without women, there would be no society."
In their efforts to raise awareness and help protect women, Native Hope brought their message to the Black Hills of South Dakota during the Sturgis Motorcycle Rally and to Super Bowl LII in Minneapolis, Minnesota. In addition, the organization supports the Pathfinder Center, a safe house for trafficking victims. Native Hope has sponsored a family room at the facility, providing furniture and décor. Native Hope also donated $2,500 toward a new security system and spent a day assisting with outdoor cleanup of the parking lot and grounds.
Mark Peters, Director of Justice, Peace and Reconciliation for the Priests of the Sacred Heart, presented the award to Native Hope along with members of the Justice, Peace and Reconciliation Commission, Fr. Ed Zemlik, SCJ, and Fr. Wayne Jenkins, SCJ.
"Their Leadership Society is developing mentors and they are working with a safe house protecting women," said Peters. "Their videos and cultural events are addressing critical social issues, their ambassadors are spreading the good news to other places. Their fellowship program is empowering creativity and leadership in individuals and communities. Celebrating education is the way to open new horizons for youth. In all these ways, Native Hope is contributing to the reign of social justice and defending the weak from oppression. With this award, the Province shows its support for their work."
In creating Johnny Klingler Social Action Award, the Justice, Peace and Reconciliation Commission sought to recognize dedication to "ministry to the lowly and the humble, the workers and the poor" (Rule of Life #31), and to the ideals of social justice as expressed in Catholic Social Teaching. The Commission wanted to lift up efforts that touched people's hearts, transformed personal attitudes and that spur us to greater social action of all kinds – direct service, advocacy for the voiceless, empowerment of the marginalized and support for systemic change at the governmental or institutional level.
"All the organizations that were nominated are doing some of these things," said Peters. "But none of them are doing all of them, like Native Hope, or for people who need it more."
The award came with a $1,000 check to support Native Hope's work.
St. Joseph's Indian School and Native Hope were both founded by the Congregation of the Priests of the Sacred Heart (SCJs), along with other missions around the world.
The SCJs were founded by Fr. Leo John Dehon in France in 1878 and are a religious community committed to works of justice and love.
Congratulations to Native Hope from St. Joseph's Indian School and the Justice, Peace and Reconciliation Commission!