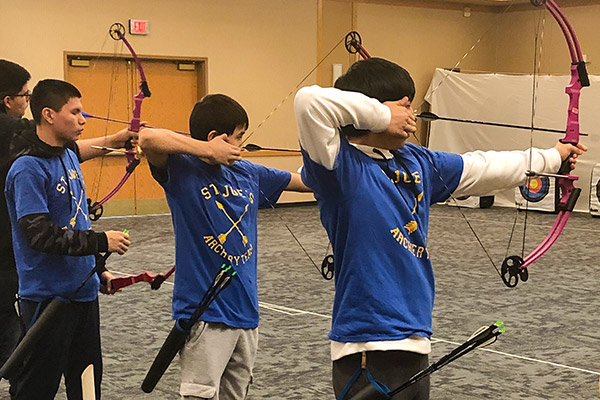 Historically, the itázipa — bow — and waŋhíŋkpe — arrow — served as protection and a source of life for Native American people. The bow and arrow were often integral pieces in their day to day lives. From a young age, boys were taught how to craft the tools, as they would someday be the hunters for their families and the warriors for their people. The boys would polish their archery skills over time and be skilled marksmen by the time they were men. Women and girls were also taught the skill of archery; however, less directly. They learned so they could protect their homes and families if the men were out hunting or at war.
Today, the skill of archery is still practiced by Native American students at St. Joseph's Indian School. While our students don't have to construct their own bows and arrows, hunt for their food or be brave warriors like their ancestors, they still honor the bow and arrow — and traditions — and show off their skills at archery competitions.
One competition St. Joseph's students recently went to was the Dakota Oyate Challenge (DOC), which is held annually in Huron, SD. A total of 18 students in grades 4th-12th went to the competition.
"The archers were excited, as it was going to be our first time in competition for the year," said Evan, St. Joseph's Rec. Center Associate. "We had several students deal with nerves to start with, but once the first couple of arrows started to fly, they set their minds to what they had been practicing and were able to perform very well."
Those nerves are understandable, as there were over 125 archers shooting for over 8 hours trying to win a 1st-3rd place trophy or a 4th-6th place medal. Of the 18 archers from St. Joseph's, there were six students who won medals. Even more impressive, two St. Joseph's students brought home the championships in the Boys and Girls High School categories.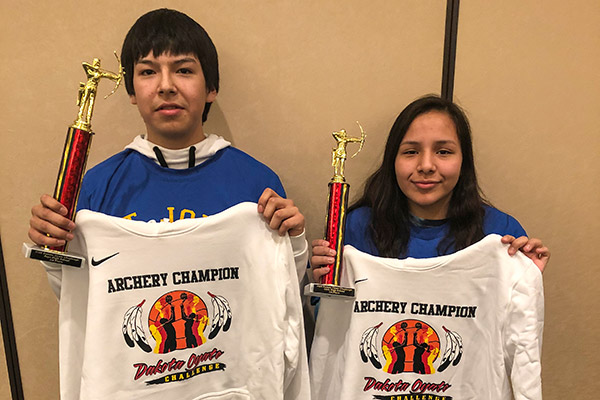 "They were both proud to win not only the biggest trophy, but a personalized archery champion sweatshirt," said Evan.
Evan summarized the ending of the day perfectly, "The coaches finished the day proud and the students loaded the bus to end the day happy with some of the hardware we had won and excited to continue their archery careers moving forward."
Excitement well deserved, we're so proud of all of our St. Joseph's students! Wóphila tȟáŋka — many thanks — to our donors who make opportunities like this possible for St. Joseph's students.