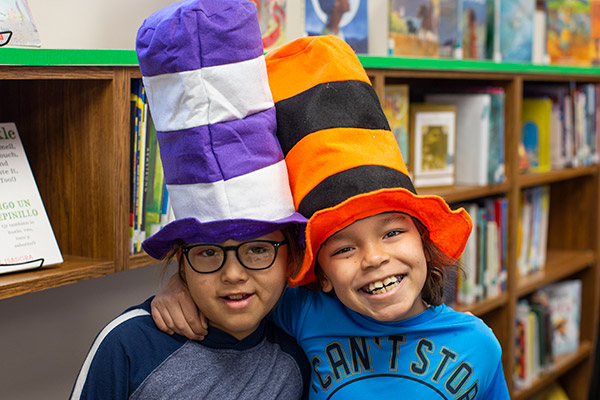 Read Across America Day is celebrated in schools across the country each year to help promote excitement and love for reading. The day corresponds with the birthday of the well-known author, Dr. Seuss, who wrote many memorable stories due to their rhyming and fantastical creatures.
In honor of Dr. Seuss's birthday on March 2, St. Joseph's Indian School had tons of fun activities take place on campus all week long! Read the fun poem below to see if you can be inspired by the much-loved author like Claire, St. Joseph's Librarian! If you read closely, you can pick up on what the kiddos did each day to celebrate.
Read Across America Week — A Blog
By: Claire in the Chair (Because not much rhymes with library".)
What kind of mischief will it take
To get us through until Spring Break?
The Cat in the Hat, Things One and Two
Know what we will have to do!
Monday come in your pajamas
And bring along your Beanie llamas*.
Make sure Tuesday morning rocks
By wearing crazy hats and socks.
Wednesday, wear a sign to show
All the places you will go.
Thursday, dress up, if you do wish
Like a red fish or a blue fish.
Monday during study hall
Is the bestest time of all!
Grab an apple! Grab a juice!
Grab a book by Dr. Seuss!
Bigger kids read to the littles
(And all the kids who are in the middles).
"Green Eggs and Ham" right from the start
Because you know that book by heart.
Eighth grade kids go find the thirds
Who love these books, and know the words!
Read your books with aunts and brothers!
Read your books with one another!
Seventh graders, find a fourth —
Sit in the hallway at the north!
Read in triples, read in pairs!
Read while going down the stairs**!
Six with twos!  Fives with firsts!
Read until your bubble bursts!
Read out loud! Read in rhyme!
Read because it's Yawá time!
We will read in every hall!
We will read from wall to wall!
Wáŋži, núŋpa, hogáŋ lúta!
Yámni, tópa, hogáŋ tȟóȟota!
Reading can be lots of fun!
Reading is for everyone!
Reading is the best you'll get!
Reading … (is it Friday yet?)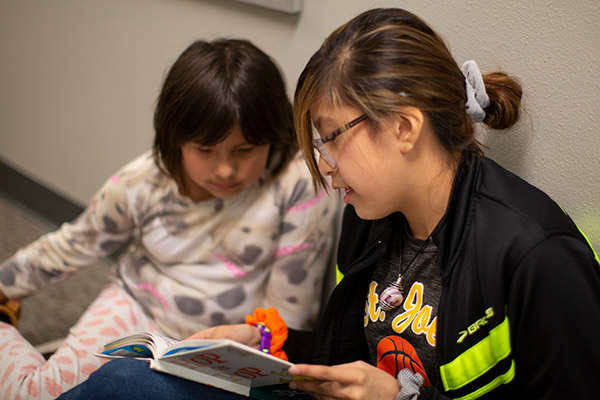 In case you're a little rusty when it comes to analyzing poetry, here's all of the fun things that happened at St. Joseph's in celebration of Read Across America Day. Each day's theme was modeled after some of Dr. Seuss's biggest titles. At the end of the four-day week of wacky and zany dress up days — and lots of reading — the start of Spring Break finally arrived.
Monday: "If I Ran the Zoo" — Kiddos were invited to wear their pajamas and bring a stuffed animal. There were even older students reading books to younger students — what great role models!
Tuesday: "Fox in Socks" — Students got to show off their wackiest pair of socks!
Wednesday: "Oh, the Place You'll Go" — Students were encouraged to wear something to represent a place they'd like to go or have been.
Thursday — "One Fish, Two Fish, Red Fish, Blue Fish" — The final Dr. Seuss themed day of the week brought kiddos in the doors in the colors red, white and blue.
*Or bears. Or giraffes. Or any other stuffed animal you want.
**Disclaimer: Please do not read while going down the stairs. I'm just saying it because it rhymes.
Yawá — Read
Wáŋži, núŋpa, hogáŋ lúta! — One, two, red fish!
Yámni, tópa, hogáŋ tȟóȟota! — Three, four, blueish fish!