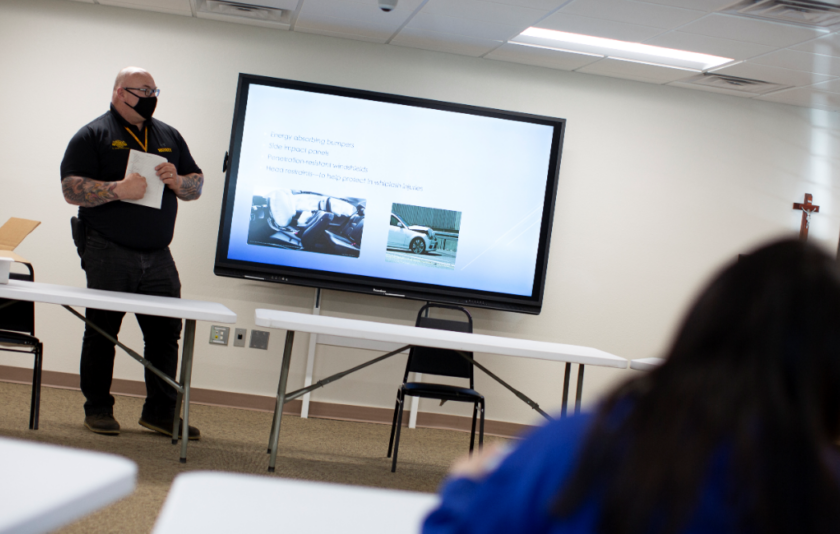 It can be a daunting task to get into the passenger seat with a young driver … especially when it's their first time in the driver's seat! But somebody's gotta do it!
And Joe, or "Big Joe" as he's known on St. Joseph's Indian School's campus, was just the man for the job.
"I've only had to use the emergency brake on my side two times so far," he said, smiling.
Joe, St. Joseph's Safety and Security Coordinator, is a former police chief and had years and years of experience with the rules of the road before coming to St. Joseph's. In previous years, Driver's Ed was taught by an instructor from the Chamberlain community. It was often difficult to enroll busy students who were juggling activity and work schedules. To offer more flexible timing to work with the students' schedules, it made the most sense for St. Joseph's to certify their own instructor. Newly certified as a Driver's Education Instructor, Joe now teaches the kids to drive on top of his regular campus security duties.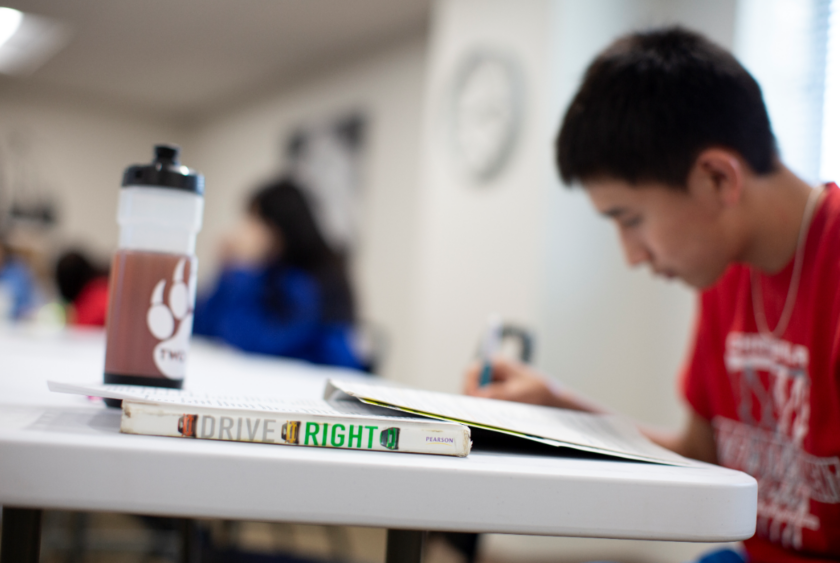 The kids arrive to class with varying degrees of driving knowledge. Some have driven a little, while others have never even started an engine because their family doesn't have a vehicle for them to practice. But after 30 hours of classroom instruction and coursework, students move on to the "real thing" and get behind the wheel.
"They're all pretty nervous to get going," said Joe. "But, we try to make it a fun learning experience."
There's a town driving day, where Joe asks the young drivers and backseat navigators to take him to multiple places around town as if they were running errands. Another day, they go down rural highway roads until meeting gravel, as many roads in South Dakota are just that. But the grand finale is a driving trip down Interstate 90 to the nearest "big city" of Mitchell, S.D., which is approximately 70 miles east of Chamberlain.
Along with the duty of driving, Joe asks young drivers to perform a few other tasks that go above and beyond other Driver's Ed courses. For instance, the kids complete a drive-thru restaurant order, as that is another responsibility of a driver.
"Honestly, that might've been the hardest part of the whole class," laughed Joe. "Some of the more soft spoken kids can have a harder time with it." It helped that the reward was a snack or ice cream, though, and the kids raised their voices and rose to the occasion.
But, it wasn't all fun and ice cream cones. Joe said there were teaching opportunities after student drivers made minor mistakes behind the wheel. No accidents occurred during the student trainings, but Joe repeated the fact that collisions and crashes can and do happen as an effect of something that went wrong. Teaching the young drivers the significance of staying alert while behind the wheel is important.
"I told them, 'I won't always be here to hit the brake for you'," he said. "They were all really receptive and good students."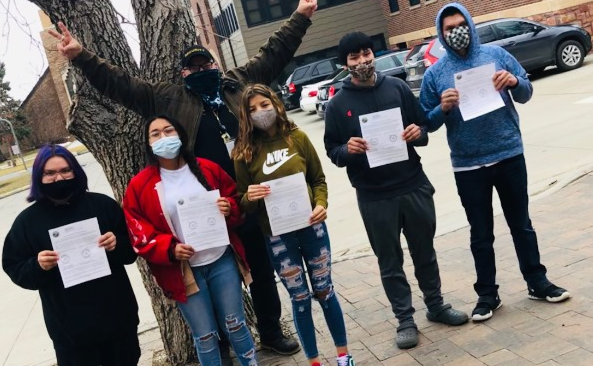 Following the final driving exam, every student in the first round of Driver's Ed passed! This was a first for any class.
"It is a really cool achievement to have all the kids pass the written and driving test on their first try," said Krista, St. Joseph's Transition Specialist who helps high school kids prepare for life after college. "Having the added flexibility of Joe being right here on campus makes a clear difference."
Joe said the experience has been very rewarding.
"Having a law enforcement background, I had a lot of stories to tell. I wasn't sure if the kids liked hearing them or not because most of the time they'd sit quietly and listen," said Joe. "But on the last day, one of the kids told me they were all going to miss my stories. That was nice to hear."
Joe's second class of young drivers hits the road soon, as he continues helping more teenagers learn the responsibility that comes with being a driver.
Philámayaye — thank you — for supporting St. Joseph's Indian School to care for Native American children and their families for life — mind, body, heart and spirit.