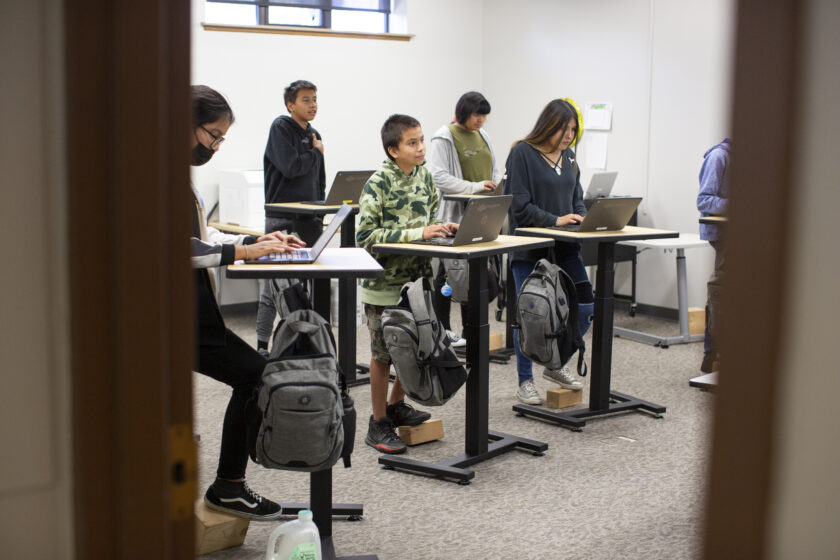 "Please take your seats" is not a phrase you will hear very often anymore in the computer classroom of St. Joseph's Indian School.
Instead, children are taking a stand … thanks to the classroom's newest feature: standing desks. Gina, our school's computer teacher, made the switch to standing desks to modernize her classroom and get kids up and on their feet more throughout the school day.
And after just two weeks, it hasn't taken long to notice the difference they've made.
"Overall, it has been accepted well … but I would say some more than others," said Gina, with a laugh. "Getting used to change is always hard in the beginning but from my past experience, I feel they will adjust and maybe like the opportunity to stand more!"
Children in the U.S. lead increasingly sedentary lives, both in school and at home, and it's contributed in part to the childhood obesity rates that have continually gone up since the 1970's, according to the CDC. Children have always exhibited a need to move around in class — whether by fidgeting, frequent restroom requests or other disruptive behaviors. Experts believe standing can channel that need for movement, helping children focus in class and avoiding the tendency to zone out after long periods of sitting.
Gina said the standing desks allow her students to "fidget" in a way that is less obvious, and thus less disruptive.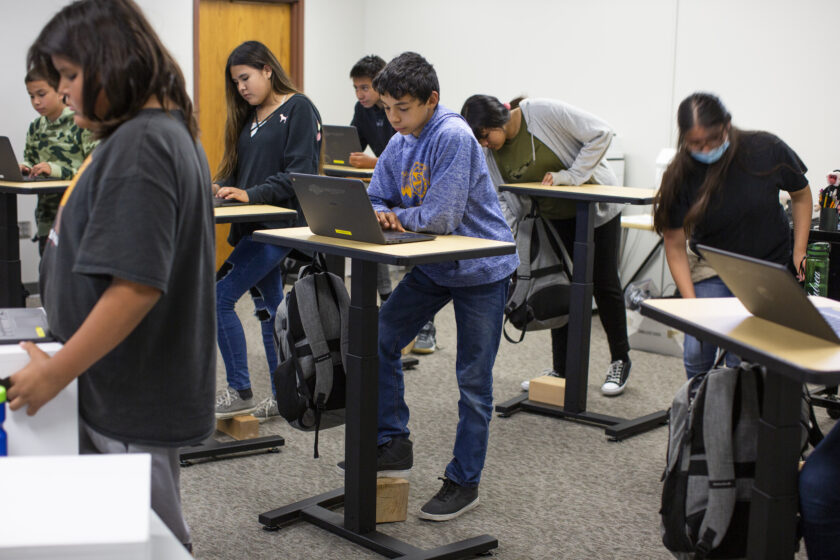 "They can shift their weight back and forth and move around a little bit in other ways that aren't disruptive and distracting so I think that helps the concentration levels of everyone in the room," she said. "I also added blocks of wood beneath their desks for them to put their foot on, and they seem to appreciate that."
Before the desks arrived in her classroom, Gina had previous experience using standing desks in the workplace and saw positive results.
"In my past job, we went from everyone sitting to standing and it was so much better for my employees physically and mentally. Their productivity improved measurably.  Even the ones that fought it the most eventually came to realize how much better they felt at the end of the day," she said.
Every so often, a student asked Gina permission to stand as they did their work. She obliged with a makeshift wooden box, but clearly wanted a more suitable solution. The desks are adjusted hydraulically, meaning each student can adjust it to their height at the beginning of each class. They are easy enough for the littlest ones to do by themselves, and the desks have hooks for hanging backpacks to keep the floor less cluttered. Besides the potential health benefits of standing, Gina is enjoying the new desks because they've allowed her to design her classroom in a way that fosters teamwork and student collaboration. Her setup before, that included two long rows of six-foot-long tables, did not accomplish this as easily.
"I always tell them in the 'real world' if we have problems, we ask others for help or ideas. I want to promote that in my classroom," said Gina. "Being able to move the configuration the desks into pairs, singles or quads at the drop of a hat was a big plus for me. This makes it possible for us to collaborate in any form at any time."
Her students like the desks, too.
"The one thing I like about the standing desk is that I can type better," said Traevin.
"The thing I like about standing desks is that you have more movement," said Jevjuan.
To learn more about the great things taking place inside and outside the classrooms of St. Joseph's Indian School, follow us on Facebook!