Monday, July 26, 2010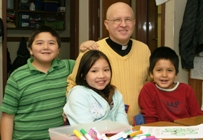 I worked from 8:30 to 5:00 today at the office. Countless people do that day after day; but for me it was a small triumph and sign that I'm getting my energy back. Hopefully there are more of those days to come, because school begins three weeks from today. We still have a lot of work to prepare for our student's arrival.
I find that I can put up with the pain in the foot a lot easier when I'm able to be up and about and doing things on campus. While I may not notice progress, I've been told by several staff members that I'm walking a lot better now. Another told me that my smile was back the way it used to be, which is an even better sign.
When I went to the clinic today I took the stairs instead of the elevator – another small triumph. I had my blood checked for the first time in 4 weeks. The clotting factor had dropped a little on the low side, so they made a slight increase in the strength of my prescription. They tell me that it's an 'inexact science' and they have to continue checking and adjusting.