Burnt toast set off the fire alarms in Central Offices and got our attention as we were just settling in for our morning meetings. We all passed the impromptu fire drill. Several of our staff are on the volunteer fire department, and once everyone had cleared the building, they checked things out and quickly determined the threat was past, and we all went back to work. A fire could break out most anywhere on campus and it was a good reminder to be prepared.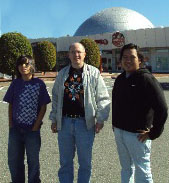 I practiced with LaToya, one of our Lakota high school girls who will speak to donors in the Milwaukee area about her experiences at St. Joseph's Indian School. The high school boys for the next trips in April and June were also selected, so I stopped by their home to congratulate them and answered their questions.  
The students are very excited to get to visit a different part of the country and experience something different from what they've know and experienced in South Dakota. One of St. Joseph's Indian School's mottos a few years ago was, "The World as a Classroom". Travel and meeting new people stretches their horizons and their understanding of the world. And for me too!
PS – for schedules and more information about attending donor appreciation luncheons, please visit: http://bit.ly/cyor7m.