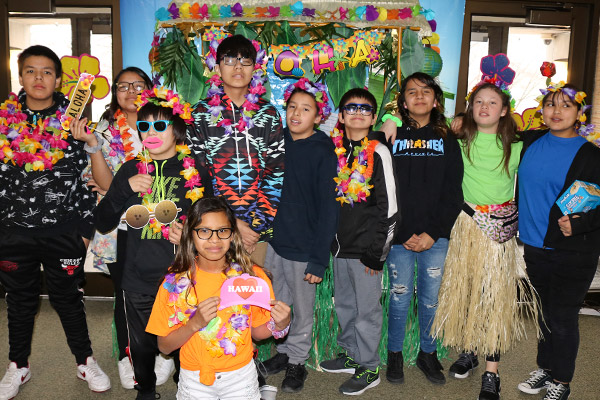 On a cold and blustery February day there is no better way to shake off the winter blues than by celebrating "I Hate Winter Day"!
"What is this?" you may ask. Well, it's a fun-filled day for St. Joseph's Indian School students and staff to anticipate the coming of summer and celebrate the many things that make it so special.
The day's festivities began with classroom scavenger hunts. Each class was tasked to find things to help them celebrate the day and build their very own rice cereal treat castle!  In their search throughout the school, Health Center and Central Offices, they found sunglasses, Hawaiian leis, buckets full of goodies for decorating their castles, rice cereal treats and brown sugar. Then each class worked as a team to build their castle for judging later that day. Our students were very creative with their castles and the winning rooms earned a pizza party!
[inpost_nivo slide_width="600″ slide_height="400″ thumb_width="75″ thumb_height="75″ post_id="9082″ skin="light" transition_effect="random" transition_speed="600″ autoslide="5000″ control_nav="1″ control_nav_thumbs="0″ direction_nav="1″ direction_nav_hide="0″ controlNavThumbs="0″ random_start="0″ pause_on_hover="1″ show_description="1″ box_rows="4″ box_cols="8″ slices="15″ start_slide="0″ id="" random="0″ group="0″ show_in_popup="0″ album_cover="" album_cover_width="200″ album_cover_height="200″ popup_width="800″ popup_max_height="600″ popup_title="Gallery" type="nivo" sc_id="sc1581611296337″]
In addition, the students played a round of mini golf (indoors of course), got their pictures taken at the Tiki Hut photo booth and were treated to snow cones for their afternoon treat.
To add to the fun of the day, everyone at school was encouraged to wear shorts, Hawaiian shirts, beach hats, sandals and anything else that celebrates summer.
The students and staff were full of smiles and laughter throughout the day and are now truly counting down the days until the snow goes away and summer is once again upon us.