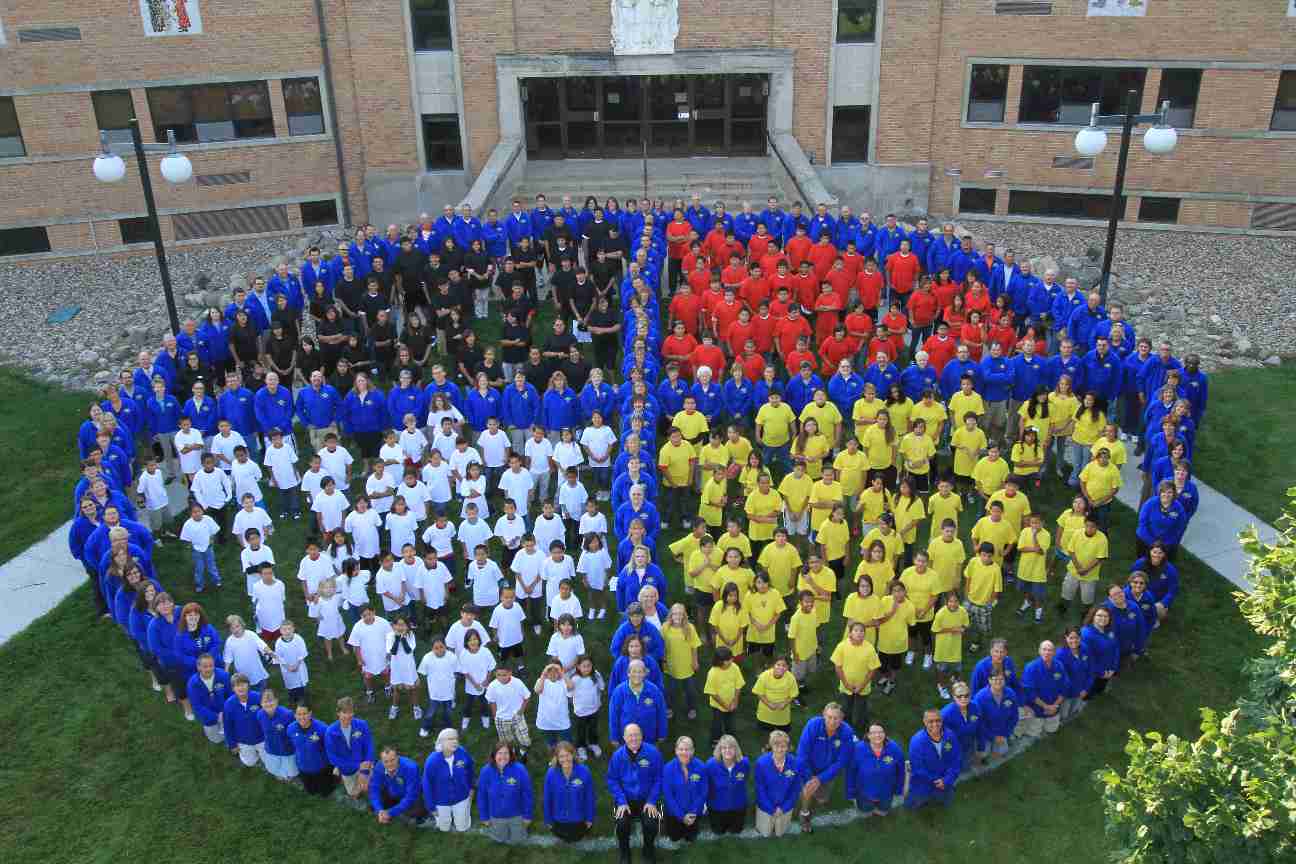 This morning all our students and staff gathered in front of the school for our annual group picture. Emily bravely stood high above us on a tall ladder. With the cool autumn winds swirling leaves around our feet, we got some 300 people to (mostly) smile at the same time so we can preserve the memories of the 2012-2013 school year at St. Joseph's.
Chamberlain High School has a fall break, which proved perfect for a trip. The entire Sheehy Home (boys) and our two high school girls who went to Germany last summer (Erika and LaToya) are showing our German exchange students the tourist and cultural sites in Western South Dakota. I'm joining them for the first part of the trip.
Our caravan consisted of a white mini-bus, the high school suburban and my car, and pulled out mid-morning. We made up sack lunches and ate at a roadside rest area along the way to the Badlands. I had two of our seniors, Chris and Erika in my car, and offered them the opportunity to help drive. The other students teased them about me taking a big chance.
In South Dakota, the roads are pretty open and have little traffic anyway, but I remember how much it meant to me when I first got my license and I was trusted enough with the responsibility of driving. Besides, if we are going to teach our students life skills, independence and responsibility, that's what any parent would do. They both did great. I did take the wheel through the badlands, since there is so much to see, and I wanted everyone else to look.
We hiked for an hour or so to shake off the travel sleepiness. Our German visitors  marveled at the giant sand castle-like formations that seem almost otherworldly, but also the vast treeless plains and vistas of the horizon all along the way. Some of our more adventurous students climbed high into the peaks, while most of us stuck to the marked trails.
Our vehicles were stopped by a herd of about ten bighorn sheep crossing the road looking for a new spot to graze. We also took a look at one of the larger prairie dog towns and saw hundreds of them scurrying about.
Chris's family lives in Rapid City, and his mom, grandmother and aunt had supper waiting for us – Indian Tacos. Lots of frybread and fixings to feed a group of hungry high schoolers. It gave the exchange students a real taste of local culture.