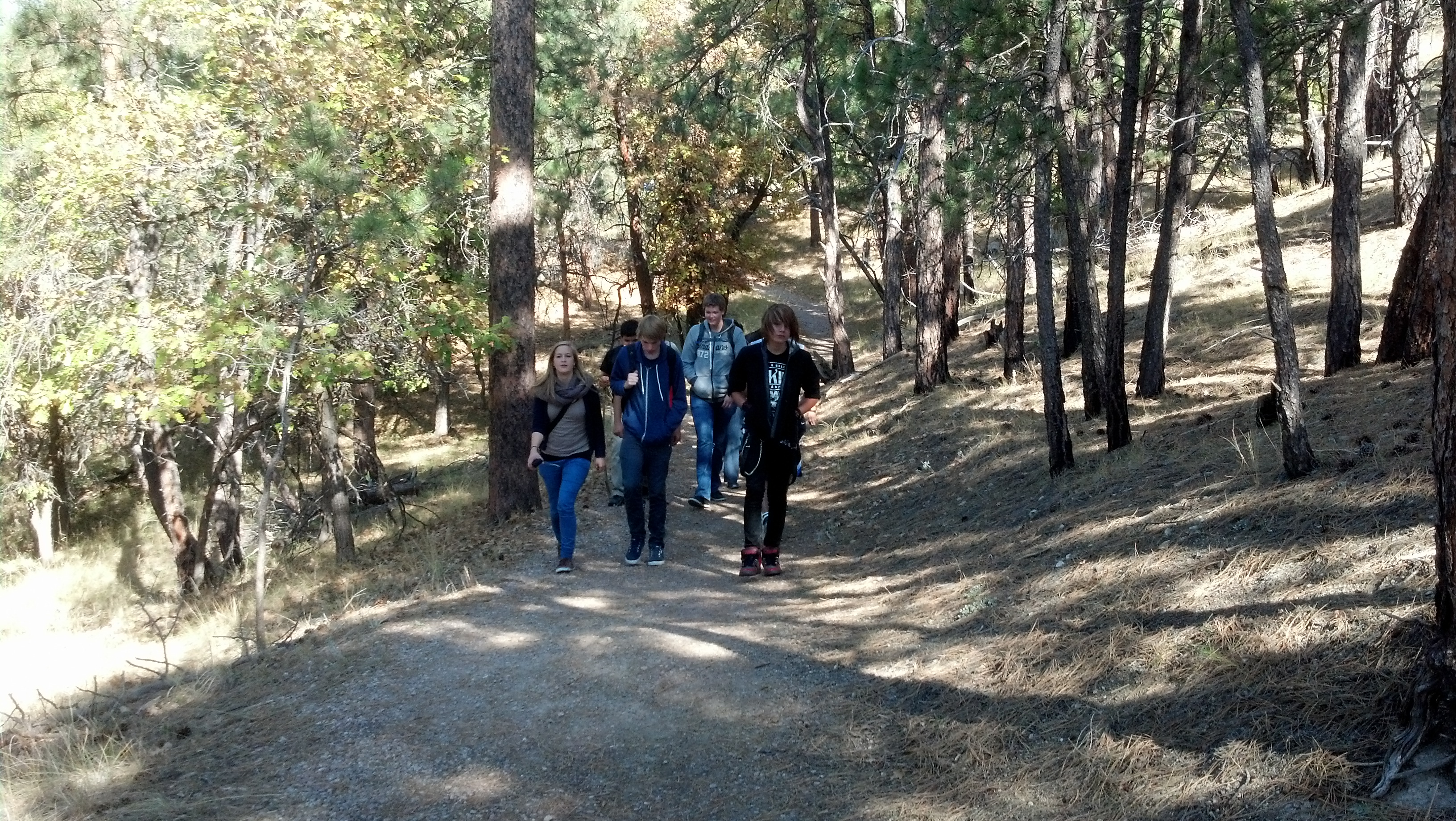 Saturday morning we headed west, stopping at the Vore Buffalo Jump near the state line and then into Wyoming. Of course, we had to stop and take pictures and walk across the border so that everyone now can say they "walked from South Dakota to Wyoming!"
It's a scenic drive to Devil's Tower National Monument.  Before starting our hikes we enjoyed the introduction to the area from the ranger.  The group divided and had a choice of either a 1 ½ or a 3 ½ mile hike around the base of the Tower.  The hikes and the views were both invigorating.  Besides the prairie dog towns, the other wildlife we saw was a rattlesnake!  Even though it was a baby one – and we viewed it from a distance – it added excitement to the day.
We attended mass that evening at St. Joseph's in Spearfish, South Dakota. The group was given a warm welcome during announcements, and we were surprised to discover that the priest there is an uncle to one of our staff members.  Then it was all-you-can-eat at the Pizza Ranch, a stop at the local mall, and enjoying the hotel pool before bedtime.
We began our Sunday with a visit to the impressive Crazy Horse Memorial, hearing the story of its origination, touring the museum, and gawking at the massiveness of the memorial. Afterwards we traveled back into the town of Custer for a brunch that included plate-sized pancakes!  However, one of the German exchange students inadvertently ordered from the kiddy menu – the biggest member of our group had the smallest meal, which made for some good laughs!
After filling our stomachs we were ready to head back into Custer State Park to begin our wildlife quest.  We had driven several miles on the Wildlife Loop and had only seen one pronghorn.  The leaders were beginning to get worried that all the animals were in hiding, but then we came around a curve to be greeted by a herd of approximately 250 head of buffalo spread out across the hills!  Some were even close to the road which made for some great photos.  Before leaving the park we saw several groups of pronghorn antelope and two deer!  It was a great way to wrap our visit to the Black Hills. 
Of course, no visit to western South Dakota would be complete without a stop at Wall Drug!  We had a chance to shop for souvenirs, have dinner and buy some of their famous homemade donuts before heading back to Chamberlain.  We had an incredible 770 mile adventure—one that made great memories for each of the students.