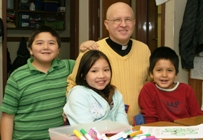 Feast of St. John Vianney
I doubt I'll ever spend 18 hours straight in a confessional; but I pray I can be a humble and good priest, and help people feel both the need for conversion and the love of God. To do that I have to fully accept both those realities in my own life.
Visions for St. Joseph's
Our management meeting dealt with a broad array of topics. Some issues are immediate like reshuffling janitorial duties, or how we'll split our presentations to the all staff gathering next week. Other topics require long-term planning, such as adding on to the museum or starting our next strategic plan.
Four years ago our staff came together and worked out our vision for St. Joseph's, which laid the groundwork for much of what we're doing now. Our next plan will take us to 2017; so we're laying out a time frame for that process now.
Celebrating birthdays with conversation
Two of my three member management team, Kory and Donna, have birthdays this week. After our meeting we went out to lunch to celebrate. It's fun to visit with staff when you're not just talking business and getting to know each other in a more personal way. If you're going to have good teamwork, it's important to build relationships.