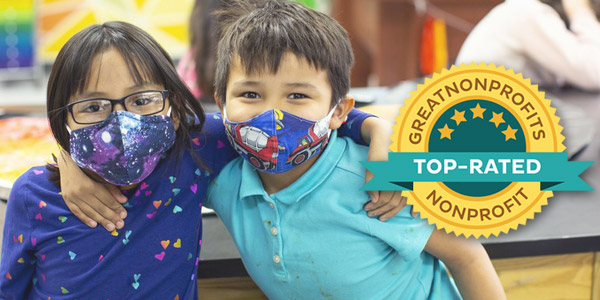 St. Joseph's Indian School is a "2021 Top-Rated Nonprofit" by GreatNonprofits, the leading provider of user reviews of charities and nonprofits.
This is the fifth consecutive year St. Joseph's has received the award.
President Mike Tyrell feels the recognition is a direct result of the entire organization's hard work and the faithful supporters.
"Thanks to GreatNonprofits for the award. We are honored and humbled to be acknowledged as a top-rated charity. We view the award as a testament to our mission of partnering with Native American youth and their families – mind, body, heart and spirit," said Tyrell.
The rating and number of reviews that St. Joseph's Indian School received from volunteers, donors and aid recipients are the basis for the Top-Rated Nonprofit Award.
One reviewer writes, "I've been supporting St. Joseph's Indian School for many years. I love that they are serving the children and the entire community. They educate the children in all of the standard topics and their heritage, and prepare them for high school and beyond. I love getting the monthly letter and artwork from the children. It is important work that St. Joseph's is doing."
Executive Director of Development Kory Christianson is thankful for the outpouring of support the organization receives throughout the year.
"St. Joseph's Indian School has always received tremendous support from our donors. To be named a top-rated charity is wonderful recognition for our staff and students, but also acknowledges the tremendous generosity of our friends and benefactors who go above and beyond to ensure our programs receive the funding needed to fulfill our mission," said Christianson.
GreatNonprofits is the leading website where people share stories about their personal experiences with more than 1.6 million charities and nonprofits. The GreatNonprofits Top-Rated Awards are the only awards for nonprofits determined by those with direct experience with charities as donors, volunteers and aid recipients.