Greetings from a snowy St. Joseph's Indian School.
We were lucky it was not snowing on Sunday when our students and staff returned to campus after Thanksgiving Break, but the weather has been making up for it since with wind, snow and low temperatures.
Break Home
While everyone was away for the holiday, it was rather quiet here on campus.  We only had a few students in the Break Home, but they enjoyed themselves.  On Black Friday, they partook in the city-wide Chili Dinner that is offered prior to the parade of lights with floats and bands welcoming Santa.  On Saturday they went to Sioux Falls to see the new Disney movie, Moana, spend some time at a local park, have a nice supper and enjoy the lights at Falls Park. The Falls were lit up nicely and the students were even able to climb up a four story tower to get a better view! From the stories I've heard, there was a race to the bottom of the tower between those who took the steps and those who descended in the elevator, but I'm not sure who won.
Charlie Brown
Since the students were away spending a long weekend with friends and family, I wanted to catch you up on other events that have been happening.  On the weekend of November 11-12, Chamberlain High School presented "YOU'RE A GOOD MAN, CHARLIE BROWN."  Due to the graduation of many of the theatrical group from last year, the director wanted to do a musical that would give her young cast experience while also presenting good, quality entertainment to the audience.  Six of St. Joseph's high school students were part of the cast and crew.  There has been a long tradition of our students showing off their talents and skills on stage, and they all did a great job… Charlie was even able to get his kite to fly!
Girls on the Run
That same weekend, 20 of our 4-5 grade girls traveled to Sioux Falls to take part in the Girls on the Run non-competitive 5K run/walk.  Girls on the Run is a 10-week program that helps educate and prepare young ladies for a lifetime of self-respect and healthy living.  The objective is to keep girls out of the 'Girl Box' where they are valued more for looks than for character. The program, under the direction of female mentors and volunteers, seeks to give the girls the tools they need to develop a healthy self-image and discover a life free from the girl box where they can say 'I belong just the way I am.'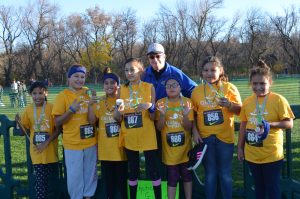 The running component is used to challenge them to reach a goal and feel a sense of accomplishment after completing the race.  When the starting gun sounded, over 800 young people and a few adults took off.  All the practice paid off and all St. Joseph's runners completed the course! Each young lady received a medal and they enjoyed themselves when they stopped for pizza in Mitchell on the way home.
Flat Francis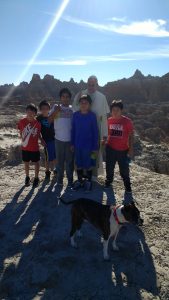 Flat Francis has been kept quite busy as well.
The Fisher Home took him to the Badlands and to the skating park here in Chamberlain.  While in Cyr Home, he helped one of our students with vacuuming, enjoyed the pizza and cake served at Aiden's birthday party, startled one of our maintenance workers as he watched him from the window and even learned how to serve a volleyball.
Throughout this process, some students have developed questions theywould like to send to the real Pope Francis: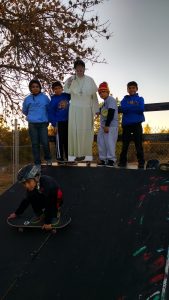 Is it hard to be the Pope?
Do you get to see your relatives very often?
What kind of food do you eat at the Vatican?
Do you have any pets?
Is it fun to be Pope?
I had originally wanted to take him with me to visit St. Joseph's Parish in Ft. Thompson on Thanksgiving for Mass and a community meal, but I could not find him.  I think he was watching the Macy's Thanksgiving Day Parade and did not want to miss the Detroit Lions vs. Minnesota Vikings football game.
Healing Camp
When the students returned this past Sunday evening, a special Healing Camp was held for seven of our students and their guardians who have recently lost relatives and loved ones. During these camps, St. Joseph's staff lets our students know that they are not alone in missing their loved ones who are now walking the Holy Road.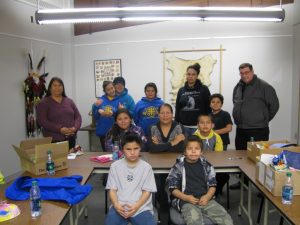 There are various readings, songs, reflections and activities they take part in to help facilitate their journey in the grieving process. This camp, our students made a prayer tie that is now tied to one of the trees in front of Our Lady of the Sioux Chapel, wrote messages to their recently departed loved ones on paper that dissolved in water, and made a prayer stick they could use whenever they wanted to pray for their loved one.  The program ended on Monday afternoon with the Wiping of Tears, which is meant to bring a spirit of joy back to those taking part.
I shared with these seven students that I would offer my Mass on Tuesday morning for their beloved and for the strength and comfort they would need to keep going forward in their lives.
I hope that you had a wonderful Thanksgiving.  We are thankful every day for your generosity and prayers.
As we begin to do our Christmas shopping, let us remember Jesus is the reason for the Season.  While baking, decorating, gift buying, Christmas card writing and whatever else the holidays bring, be sure to make room for the Christ Child in your hearts.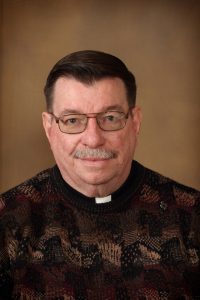 Fr. Anthony Kluckman, SCJ
Chaplain