Dear Benefactors,
Sadly, as the saying goes, all good things must come to an end… and it did here at St. Joseph's, with a thud!  Sunday was the end of the Christmas break, but also the outset of extremely cold weather.
While we have not gotten the snow other parts of the country have, we are getting a taste of the Polar Vortex that is keeping the temperature down along with the wind chill, which sent the temperatures plunging.  Many of our students were not able to make it back on time and most schools in the state were closed Monday.  On campus, we even used the school bus to ferry the students to class from their campus homes.
Christmas Break was enjoyed by all.  Students and staff had the chance to enjoy family and friends.  I was able to visit my mother in Texas for a few days and was blessed with good weather going down and coming back.  All the Lakota students were able to enjoy Christmas at home, though members of the boys' and girls' high school basketball teams had to come back to campus early in order to take part in the scheduled games over the break from school.  This is a tough aspect for the team members, but they seem to be facing the challenge, as both teams are 4-1.
We look forward to getting all the students back and kicking off third quarter with a prayer service.
St. Joseph's fifth graders are taking part in a program called "Star Base" which aims to develop an interest in science. The classes and experiments involve building robots, shooting model rockets and, Friday, will culminate with a trip to Ellsworth Air Force Base near Rapid City, South Dakota.
We received a visit from an alumnus last week! KP graduated in 2012 and then completed an automotive vocational course in Wyoming. He then worked in the Rapid City area prior to enlisting in the military.
He is excited about the prospect of preparing for Special Forces as he heads to Ft. Benning, Georgia, aware that a tour in Afghanistan is a real possibility.  KP shared that his time at St. Joseph's Indian School helped him to focus on the things that go into making such an important decision.
His former houseparents and several other staff expressed their pride in KP's decision, and the fact that he has a plan and seems to be sticking with it.  We wish him well in his future and ask the protection of the Great Spirit on him!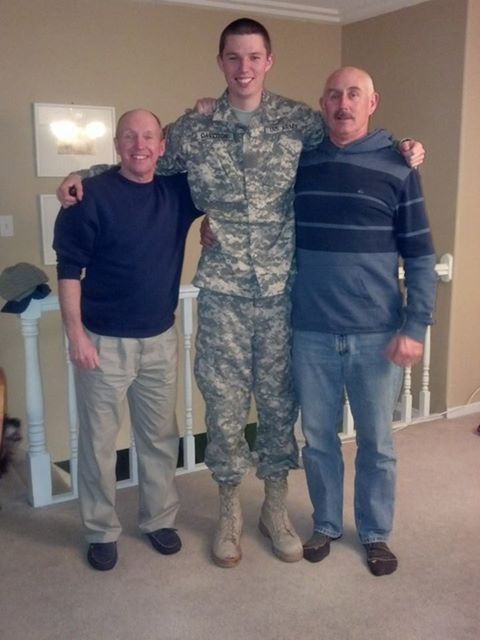 Now that it is cold outside, the students are getting ready for all sorts of indoor activities. The boys' basketball teams have begun practices and the girls' inter-city league will be underway in a week or two.  Aside from basketball, there will be archery, bowling, cheerleading and tumbling.  Of course, swimming is also a big hit with our Native American students, too.
We hope that you and yours had a very special holiday  season and that the New Year is off to a great start.  May the Great Spirit bless and reward you for your generosity toward the Lakota boys and girls!  As you look at the blank pages of the new calendars around your home, remember God is already there waiting for us to catch up with Him.
Sincerely,
Fr. Anthony Kluckman, SCJ
Chaplain
P.S.  The local movie theater is setting the tone for the weather outside as it is currently showing the new Disney movie 'FROZEN.'