Greetings!
My name is Jeshua and I am the Lakota language teacher at St. Joseph's Indian School. This was my first year on staff. In addition to teaching language, I also help with our drum group.

Our lowan wicasa (drum group) is called the Chalk Hills Singers. We get our name from all the stories of St. Joseph's early days when the children would hike in the hills north of campus and find the chalky rocks alongside the Missouri River. We practice twice per week with all types of styles and genres like powwow, traditional, sundance and round dance songs.

I'm really proud of how far the boys have come. I believe every singer can now take a lead (starting a song so everyone joins in). These students aren't just learning how to drum; we incorporate meaning, what the drum represents to our Lakota (Sioux) people and how important it is to be a drum keeper or singer.

So far we have 13 male singers in grades 6-12, and three wicaglata win (the women who accompany the men at the drum). Females sing in support of the drummers, standing around them. They are usually close to the singers and must know the songs as well.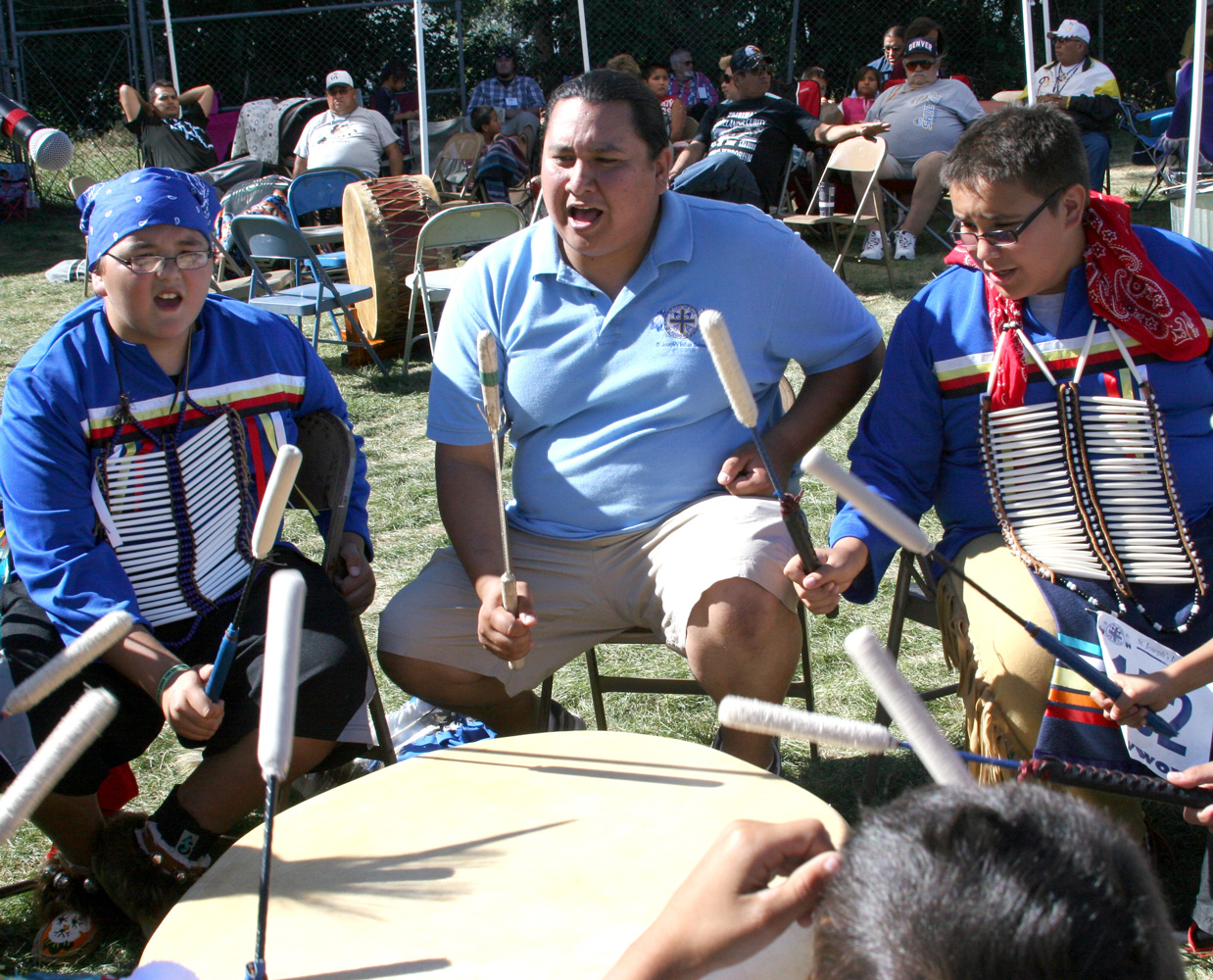 In Lakota tradition, women do not sit at the drum. We explain the etiquette of how singers conduct themselves around the drum and that it is a great honor to make people dance, cry and laugh with their voice and the drum.

We sing at every St. Joseph's powwow, which is an awesome sight with our Native American students in regalia, singing loud and proud. This fall, we also had the chance to participate in a veterans' powwow on the Lower Brule Indian Reservation, which is my home reservation.

The boys witnessed a tokala (warrior) ceremony and had the chance to dance as well and pay respect to all veterans, which was a very memorable experience. All the other drums came up to shake our boys' hands and give them props for being such a young and strong group of singers.

Recently, the sixth grade boys had the chance to participate in Inipi – purification lodge – and put their singing voices to use in what is also called the prayer lodge. For most of them, it was their first time participating in this ceremony.

It was awesome. They knew the songs to sing and showed great respect and attitude all the way to the end. We are going to have boys and girls inipi ceremony every month for different grades.

I believe their identity as Native Americans is very important. We try showing them this way of life at St. Joseph's because some of them never get the opportunity.
That is what I love about St. Joseph Indian School: We can incorporate all types and diverse aspects to culture, religion and history for the students and staff.
Pilamaya – thank you – for your generosity!