Here we are at the end of April, and May is almost upon on us.  In South Dakota, we have been blessed this April with much needed moisture and we even had a snow day at St. Joseph's Indian School!
The month of May brings many changes in weather, landscape and fashion (bye bye snow boots, gloves, hats… hello flip-flops and sunscreen)!
May also brings many changes to the Akta Lakota Museum & Cultural Center and our new Historical Center, Tokéya uŋkí nájiŋpi (We Stood Here in the Beginning).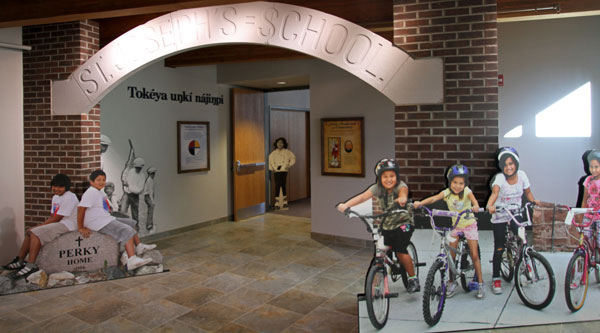 New summer staff will begin, the finishing touches of the renovation are being completed in the museum and historical center, the dedication for the historical center is set for May 12, and our summer hours begin!
Beginning May 1, operating hours at the Akta Lakota Museum are:
Monday through Saturday, 8:00 a.m. – 6:00 p.m.
Sunday, 9:00 a.m. – 5:00 p.m.
Would you like a campus tour during your visit?
Campus Tours Options:
A self-guided audio tour to use in your car as you drive around campus
An mp3 player for a walking tour
Guided tours are at 10:30 a.m. and 1:30 p.m. Monday through Saturday. This is approximately a 1-mile walking tour, (transportation is available if needed).
A private guided tour for a different day or time is available by appointment only.
All options are free of charge.
To schedule a guided tour, or if you have any questions, please contact Charleen at muscd@stjo.org or call 800-798-3452. All tours begin at the Akta Lakota Museum. For the safety of the Lakota (Sioux) children who live on our campus, we ask that all visitors please check in at the reception area at the Akta Lakota Museum upon their arrival. Get directions.
Let summer begin!