It's finally starting to feel like spring at St. Joseph's Indian School! A few weeks ago, cabin fever was raging — the snow kept coming and it didn't feel like winter would ever end!
So, our rec center staff got creative with activities and planned a bingo night at the rec center!
Bryan, Rec Center Coordinator, tells us more.
Who participated?
—  The 1st-12th grade homes all came to the rec center.
Why did you choose this particular activity?
—  We scheduled this event to help take the winter pressure off the students and houseparents for an evening.  With spring break being later than usual, it was a good opportunity to bring everyone out and have some fun. Also, the weather has forced a lot of other activities to be cancelled over the last several weeks. It was nice to do something on campus that everyone could get to.
How did the students like it?
—  I think was great for the kids get out of their homes during the cold winter weather and give them a different activity to do. The majority of our students have family members talk about bingo or have even played together with family, so it's something everyone is familiar with.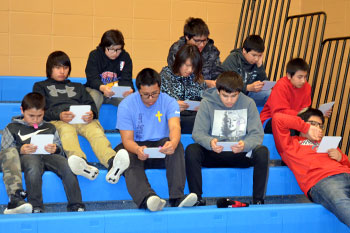 Bryan and his staff had prizes for all the bingos. They played several different variations of bingo throughout the evening and had prize drawings between each game.
"It was a very fun night," said Bryan. "We had 100% student interaction – even the older kids loved it! Students sat with the other students in their homes, and some students sat with their siblings or cousins. You could literally hear the excitement as we inched closer to every bingo throughout the night. We are really happy that spring seems to be here, but it will be fun to play bingo again too!"