Hey everyone, this is April. I am a 6 day houseparent for high school boys here at St. Joseph's Indian School. I work  with my husband Mike. This is my fourth year at St. Joseph's Indian School. I have been a houseparent previously for 10 years in Tennessee, Texas and Oklahoma.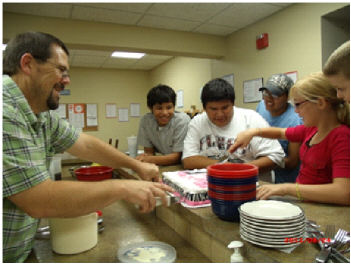 I'm a first time blogger! We have 8 sophomores and 2 freshmen, as well as two of our own children staying with us in the Carola Home.
The year began with the football season where two of our boys, Shawn and Wyatt played for the Chamberlain Cubs. Our home went to many games to support their fellow classmates.
A typical day for the boys is waking up at 6:30 am, getting ready for school, having breakfast and completing their household contributions. Then their off for a full day at Chamberlain High School. Following school some are involved in various school activities while others have free time. After dinner is homework time. Some go to the learning center where they get help with their assignments. Most nights they go to the rec center to play basketball or work out in the weight room.
On the weekends, they do various activities such as going to the LifeLight Christan Music Festival and camping in Sioux Falls, traveling to Mitchell for dinner and the movies, walking along the beach and going hiking. On Sundays we attend Mass here on campus at the Lady of the Sioux Chapel.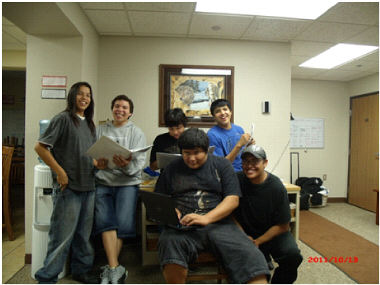 One of my duties as a houseparent, is to check the school website to check the boys' grades and missing assignments. When the boys come home from school, I talk with them about where they may need to improve or how they have progressed. I truly enjoy watching the boys' faces as they learn that they can make good grades, or even make the honor roll. Some of the sophomores really struggled their freshman year, but this year it is so exciting to see how much they have matured and improved. The boys have worked very hard this year on their grades with 5 boys making the honor roll and the others 5 closely behind.
I am so proud to say our home GPA for the first quarter is 3.0!
Much more is in store with our boys.  We have 3 learning to drive, some seeking out a job and basketball season is around the corner. We are planning a home trip in February to go skiing at Terry Peak.