Greetings from St. Joseph's Indian School.
Things were a bit hectic here Monday as students began returning from Christmas Break. Due to the recent snow storms and cold snap in the upper Midwest, we are still missing a few students who have been unable to return.
We hope all students will be here by Sunday, as that is when we'll be celebrating Christmas here on campus! After church, the students will be opening gifts provided by the generosity of benefactors. Our houseparents have been busy shopping and wrapping special toys and gifts for each student. I'll be sure to give you a rundown on how things went next week.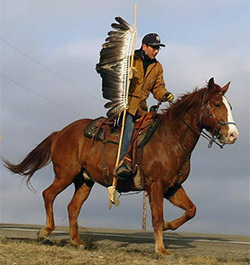 Prior to Christmas, two of our students—3rd grader Ezmiah and 8th grader Pearl—joined Ezmiah's grandfather, Wilfred, and 45 other riders to take part in the 330-mile Dakota 38 + 2 horseback ride across South Dakota and western Minnesota. The ride honors the memory of 38 Dakota warriors hung in December of 1862 and two hung in 1863 as part of the Dakota War of 1862.
The ride starts in Lower Brule, South Dakota and culminates in Mankato, Minnesota where the hangings took place. The goal of the ride is to encourage and promote healing and reconciliation.
Throughout the ride, riders stop at various towns along the way where they are provided meals and warm spots to spend the night through the generosity of locals.
To help compensate for the school days Ezmiah and Pearl missed here at St. Joseph's, they have to write a paper on what they learned while on the ride and how it helped them become more aware of their heritage and the history of that era.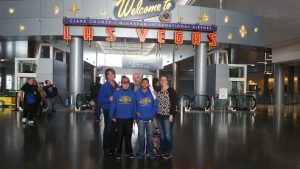 Two other students, Jeren and Keshaume, headed in the other direction early December, arriving in Las Vegas to attend a Donor Luncheon.
St. Joseph's Donor Luncheons are a great opportunity for benefactors to get a feel of St. Joseph's without having to make the trip to South Dakota. During the luncheon, there is a video on St. Joseph's and a presentation by two students who are currently attending St. Joseph's. Our students always look forward to speaking with St. Joseph's supporters and friends, answering questions and thanking benefactors for their generosity and support.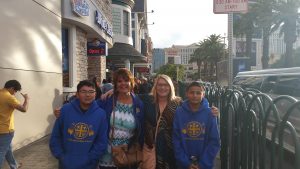 Once the luncheons are over, the boys and their chaperones had the chance to explore Las Vegas and see the sights. They went to Circus Circus, rode go-cart and roller coaster rides, saw some memorabilia from the Captain America and Iron Man movies (one of Jeren's favorites) and attended a performance of Cirque du Soleil.
They both thought it was really neat to be able to have breakfast brought to their room! This was also the first time Keshaume had ever flown and he made sure to have a window seat.
If you would like to take part in an upcoming Donor Luncheon, please feel free to contact us so we can give you information on the Luncheons in Palm Desert, CA on January 20th-23rd; New Orleans, LA on April 21st-24th and Phoenix, AZ on June 2nd -5th. Visit www.stjo.org/luncheon or call us toll-free at 1-800-584-9200 for more information.
On Wednesday, the 4th-8th grade boys' basketball players had the chance to sign up for the upcoming season and receive their basketball shoes. There was a good turnout.
After some opening remarks from our Athletic Director, Bryan, in which he urged them to be on time for practices and make sure their academic grades do not suffer so they remain eligible, they split into the respective teams and had a brief meeting with their coaches about the upcoming season.
Our 5th and 6th graders will kick things off with a trip to Pierre to play PILC (Pierre Indian Learning Center) next Thursday and then the home openers will take place on January 17th when we host the 4th, 5th and 6th grade teams from Chamberlain.
The boys enjoy basketball and are eager to get things going. One of the teams even had their first practice later on Wednesday!
While the boys will be playing on the hardwood, the girls will have a chance to get involved with gymnastics and will work to hone their skills during these winter months.
We had a prayer service for the opening of the third quarter of the school year this past Tuesday. We asked the Holy Spirit to be with students, teachers and staff so that everyone can work together to live up to our school motto, 'we serve and teach, we receive and learn.'
On behalf of all of us here at St. Joseph's Indian School, I would like to take this opportunity to extend to you our best wishes for a very Happy, Healthy and Rewarding New Year of 2017.
Remember, as you look at a new calendar, the dates may be blank since you have not filled them in yet with the various activities you are involved with; but Jesus is already there waiting for you to catch up with Him so as to receive His blessings, guidance and strength during each and every day.
Know that we keep you and your intentions in our prayers, asking the Great Spirit to bless and reward you for your generosity. Pilamaya—thank you!
Fr. Anthony Kluckman, SCJ
Chaplain