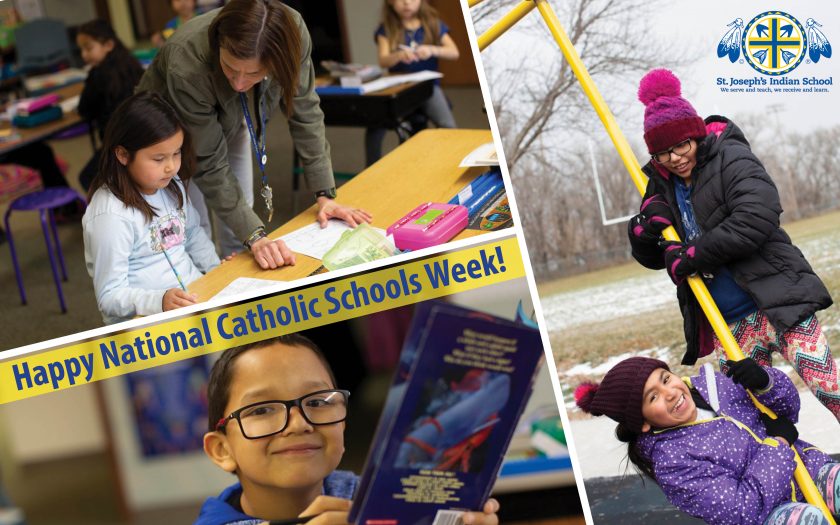 Every year, students and staff in Catholic schools across the country take time to recognize the well-rounded education Catholic schools provide. St. Joseph's Indian School is proud to offer our Native American students an education and environment that meets the needs of the whole child – mind, body, heart and spirit.
It is the combination of both Lakota (Sioux) culture and Catholic faith that makes St. Joseph's Indian School so unique.
The theme of this year's celebration is "Learn, Serve, Lead, Succeed." To celebrate, students and teachers will participate in many activities corresponding with each category. It's sure to be a busy, busy week!
Learn: Students and staff support their favorite college by wearing that school's gear.
Serve: A team of teachers will be making a traditional Native American energy bar called wasn

á

– pemmican – which is made of dried meat, tallow and berries. Students will serve it to staff. There will also be a school History Challenge with other Catholic schools founded by the Priests of the Sacred Heart (SCJs). Grades 4-6 will visit local a nursing home to do an activity with the elderly. Lastly, grades 7-8 will take part in some campus cleaning!
Lead: Grades 1-4 will be making "I am Strong with God" bracelets; 5th-6th graders will be reading to 2nd-3rd grade students.
Succeed: Grades 1-3 will wear Superbowl team colors and play "Minute to Win It" games. We are hosting a "Soup"er Bowl canned goods food drive. We will also have an assembly celebration prayer service to watch the video of Br. Mickey McGrath's Health Center mural done during the week with students. Stay tuned for more details on that project!
Learn more about the good things you help make possible for the Lakota children!
Are you celebrating CSW this week? Tell us how with a comment on this story!
Note: St. Joseph's students are not required to be Catholic; we welcome Native American children of all faiths to our tiyospaye – extended family. The cultural aspect of our curriculum provides instruction in the Lakota language, spiritual ceremonies and traditional Lakota (Sioux) ways. Students also learn the history and traditions of the Catholic faith, all with the consent and support of their families.