Bringing beauty to overlooked places is the driving force behind Br. Mickey McGrath's paintbrush. In fact, he quotes Pope Francis, "An artist is an apostle of beauty, who helps others to live."
During National Catholic Schools Week, Br. Mickey was at St. Joseph's Indian School painting a mural with St. Joseph's art teacher and a handful of passersby who left their marks of blue, yellow and red.
"We've been talking about this project for years and years," said Br. Mickey. "Luckily, we finally found a time that worked, and how fitting to be during Catholic Schools Week."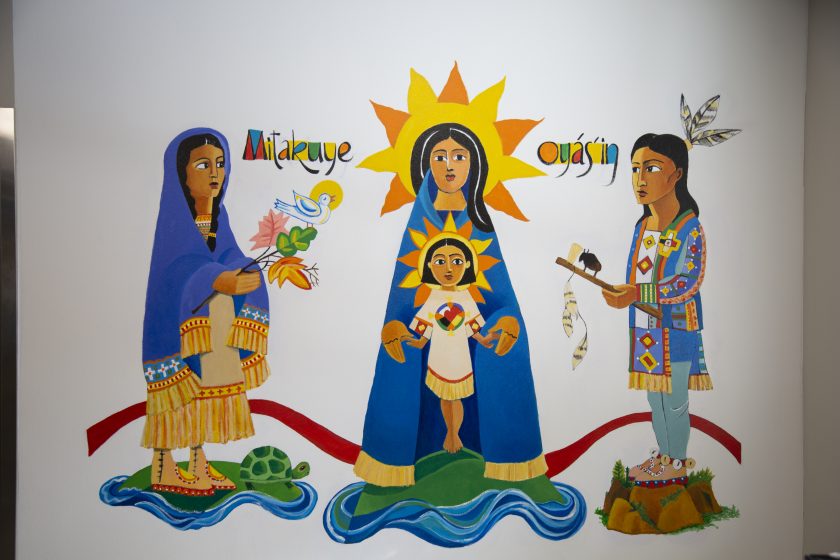 The mural, located in St. Joseph's campus health center, displays four important figures: St. Kateri Tekakwitha (left), the Virgin Mary with the Christ child (center) and Nicholas Black Elk (right).
St. Kateri is the first Native American to be recognized as a saint by the Catholic Church. St. Kateri was known as a skilled worker who was very diligent and patient. She is the patroness of ecology, especially for Native Americans.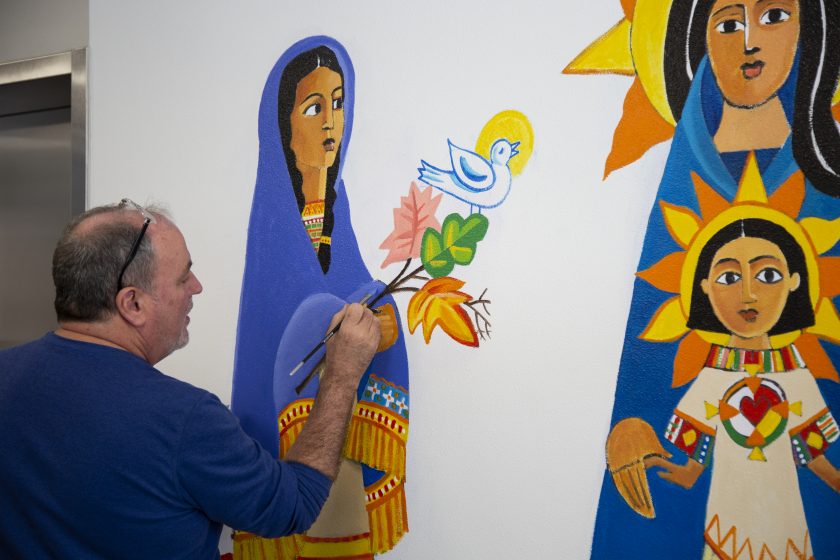 "St. Kateri has always been a favorite of mine," said Br. Mickey. "She's the symbol saint for outcasts and misfits. During her short life, she turned her hurting heart into healing for others."
Which makes her a fitting subject to be displayed in the health center, where St. Joseph's students receive medical and emotional care.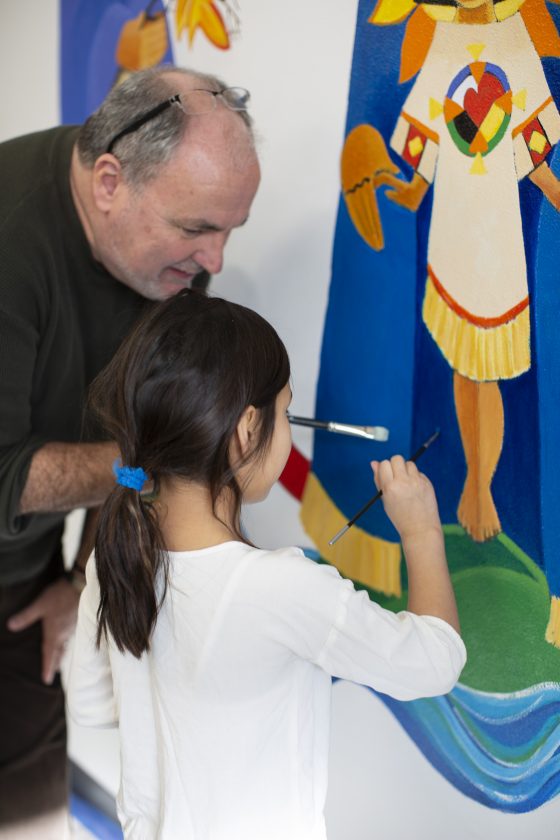 Next to her is the Virgin Mary with the Christ child. A symbol for Mother Earth – a source of life – Mary's figure is also shaped like a tipi in this mural, which is symbolic of her being the sacred home of Jesus. The mural also features several circles. The circle plays a role in many Native American beliefs and traditions. The circle of the Medicine Wheel, held by the Christ child, represents the continuous pattern of life and death, the path of the sun and moon, the shape of a family home (the tipi) and other significant pieces of Lakota culture.
Nicholas Black Elk stands on the right.  Recently, Black Elk was nominated for the canonization process for sainthood. He often melded his Lakota culture with his Christian faith, which he taught to many. Mounted on the pipe in his hands rests a buffalo, which is a symbolic figure to Christ because it gave everything of itself to Native people. The three feathers represent the Holy Trinity.
"As you can see, there are a collection of small, almost hidden, elements that work together to bring a lot of meaning to this mural if you look closely," said Br. Mickey.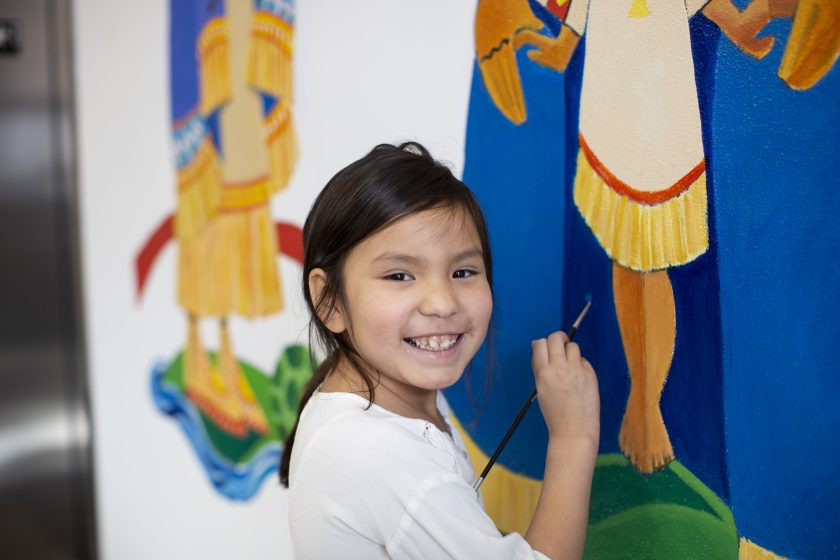 And a close look is something many St. Joseph's students and staff are doing as they walk by. You can't help but stop to take it all in.
Clare, St. Joseph's Mission Integration Director, was one such person. She helped coordinate the mural project between Br. Mickey and St. Joseph's.
"It's very beautiful, isn't it?" she said.
It's true. The once overlooked space, is now truly beautiful.
Pilamaya – thank you – to Br. Mickey McGrath for painting this beautiful mural for St. Joseph's Indian School and for donor support that makes projects like this possible!