Activities were taking place all around the Chamberlain area this weekend, as well as on St. Joseph's campus.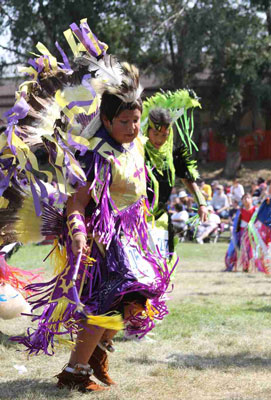 The high school students returned Sunday and are now taking part in an orientation to get them ready for the first day of school at Chamberlain High on Wednesday, August 21.  We are excited that we'll have 50 Lakota students in our program this year. High school sports practices have also begun.
The biggest event of the weekend was the powwow on the Crow Creek Sioux Indian Reservation, celebrating the 150th anniversary of the founding of Fort Thompson, South Dakota.  They had a big turnout, with nearly 1,000 people on Saturday alone.  Many dancers, singers and drum groups took part in the celebration. A good number of our Native American students come from the Crow Creek Reservation and they were happy to be able to spend time with family and friends.
St. Joseph's upcoming 37th annual powwow is right around the corner! This week began with a planning meeting for the celebration, which is scheduled for September 21. We hope you'll have the chance to visit St. Joseph's Indian School for the event!  You can look over our schedule at www.stjo.org/powwow.
Have a great week and enjoy the last remaining days of summer.  May God's blessings continue to be with you, and gift you with health and happiness.
Sincerely,
Fr. J. Anthony Kluckman, SCJ
Chaplain