Hello from the Mathias Home, where we are starting off our new year with a bang! We have eleven Lakota (Sioux) girls in 6-8th grades. Two are new students at St. Joseph's, and two have moved up from the 4-5th grade homes.  On top of that, we have four new staff in the home!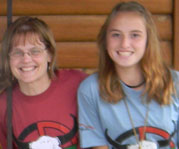 I am new to the 6-8th grade community, but have worked for five years in St. Joseph's high school program.  My partner Cathy is fresh from Chicago.  Today is the first day of work for the 6-day house parents, who just arrived in South Dakota this week from out East.  We are all going through some changes as we try to figure out who we are, where everything is, and how we are going to work together.
The first week is usually pretty frenetic as we get all of our students checked in, get their medical and clothing needs taken care of, and get their belongings squared away.  Once we have the external details in order, we start with the internal ones.
The students need to know if new staff are trustworthy.  Do we mean what we say?  Are we going to be hurtful?  Are we going to give up on them?  Are we going to keep them safe?  Are we going to stop them if they go too far?
The student's job is to feel out the limits, and our job is to be very clear where those limits are.  Over.  And over.  And over.  And over.
My partner and I are pretty on top of things, so students don't get confused by conflicting messages.  And so the students don't "confuse" us with conflicting stories.
I have been feeling the learning curve as I learn a new set of rules and expectations, and as I find my way around a new home and a new group of kids.  I think I am getting the hang of it.
The other night on duty, I decided to check in with one of my "veteran" students, Jillian, who has been at St. Joseph's Indian School for several years.  She is actively trying to figure out what the limits are in the home, now that there are different staff people here.
I told her I was writing a blog post for the donors and friends of St. Joseph's, and I could use her help.  She seemed to like being interviewed, and took a serious tone that I hadn't seen from her before.  She tried to read me, and give me the "right" answers at times, but mostly she was amazingly candid.
ME: So what is good about being back at school?
JILLIAN:  Having a good time playing basketball with my friends [who I haven't seen all summer].
Anything else?  There is always something good to learn.
Like what? Umm.  Math…reading.  Mostly all my subjects.   Anything else?  I like when we go on trips.  Like Lifelight. [a Christian Music Festival].  There was a girl rapper last time.
Anything else? There is always something good and healthy to eat.
Hm.  What have you liked so far?  Breakfast pizza!!
ME: Tell me about what is hard about being back.
JILLIAN: I'm used to being with my sisters and brothers.
And you don't see them as much when you're here? Yeah…my brother is somewhere else.
But your sister is here, right? [Makes a face.]   
Anything else?   New house parents.  [Makes a face].
ME: Tell me about your dreams for this year.
JILLIAN: Meet new people.  Try to get along with everyone in the home.  Try to get good grades.  Be a good role model.   [Pause.]  I would like to be Miss St. Joseph's [for powwow.]
That's right, you're a dancer.  Fancy shawl, right?  Tell me about that.  Well, when I dance…it's like there is no one there.  Just me.  There is no sound.
Do you feel anything?   Just the beat on the ground.  Like big horses.  Or a big heartbeat.  There are no colors.  Everything is white.  Going in circles.  When the drum stops, then everything goes back to normal.
[Dumbstruck.] Whoa. That is so cool.  [Shyly] I dance for my ancestors, who have done it in the past.
[Over the summer, Jillian said she lost that feeling of being connected to her ancestors.  She seemed pretty sad when she talked about it.   I asked if there was someone on campus who could help her with this.   Her face brightened when I mentioned LaRayne, her Native American Studies teacher. Yes!  LaRayne would know what to do! ]
ME: Anything else you would like to share?
JILLIAN:  It is hard living on the Rez!  Stay in School.  Stay out of trouble!  Don't give up on work! 
Anything else? [Pause]  I think that's all.
Thanks for helping me with my homework, Jillian!
Wow.  It has been a long week of sorting, folding, washing, talking, telling, urging, cleaning, cooking, mopping, nit-picking (literally), running, walking, shopping, teaching, writing, reminding, consequencing, listening,  learning, setting limits, setting limits, setting limits, setting limits…
I am very grateful for these moments when these precious Native American girls – my girls – remind me why I'm really here.
Thanks to everyone who makes these kinds of connections possible.  Your support and prayers are making it possible for us to have another great year at St. Joseph's!