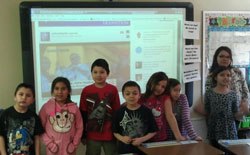 I'd just come back to the office after lunch yesterday when I heard rumors of white smoke coming from the Vatican. I called St. Joseph's principal, Kathleen, to let her know. With the Promethean Boards we have in many of the classrooms, teachers can transfer images and programs from their computer to the big screen, so students got to watch the unfolding announcement live. I visited several of the classrooms, and the kids had tons of questions.
"Why the smoke?" – so I explained the voting process.
"Who are those people in the funny uniforms?" – and we learned about the Swiss Guard.
"When are you going to become Pope?" – I took a pass on that one.
And, as curiosity and impatience both grew, "What is the pope doing now and when is he going to come out?"
I enjoyed sharing this special moment in history with our Lakota students. People have been asking me about my first impressions of the new Pope Francis. I am encouraged that he has a reputation for reaching out to the poor in his diocese in Argentina. Choosing the name Francis raises the hope that he will be able to lead followers to strengthen and rebuild the church where it is broken, work for peace in our troubled world, and reach out with greater charity to those in need.