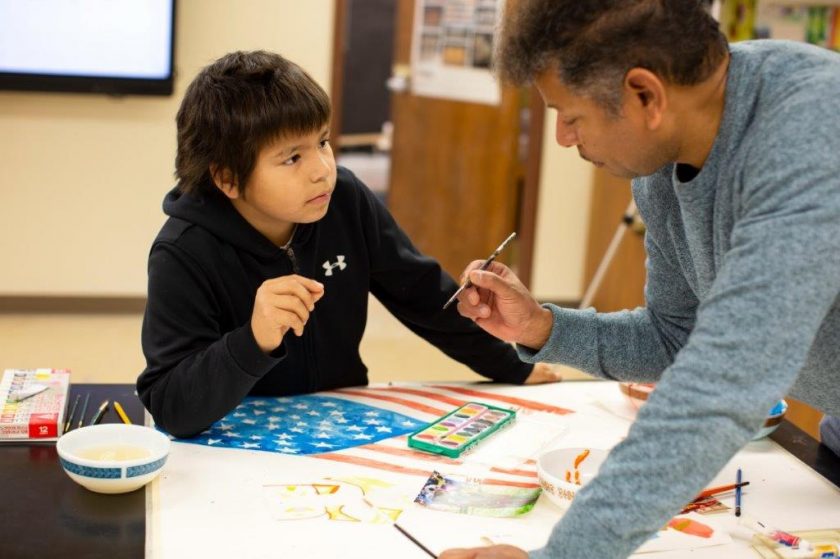 "Pilamaya, Hector! That means 'thank you' in Lakota," said Mario, a St. Joseph's fourth grader who recently spent a week with visiting artist Hector Curriel.
A smile broke across Hector's face.
"Gracias to you!" he replied. "Thank you for sharing that with me! Can you write it out so I can see how it's spelled?"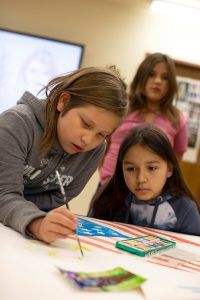 Originally from Lima, Peru, Hector now lives in Sioux Falls, South Dakota and recently spent a week at St. Joseph's Indian School through the Artists in Schools & Communities program. He worked with third and fourth graders in art class with Dave Meyer II, St. Joseph's art teacher.
"We look for visiting artist opportunities that can demonstrate diversity and collaboration for our students," said Dave. "Being from Peru, English is not Hector's first language. This obvious difference immediately started building the bridge for sharing. He was gracious enough to teach our students some Spanish. In return, students shared some Lakota with him."
Together, Hector and the students created a watercolor painting.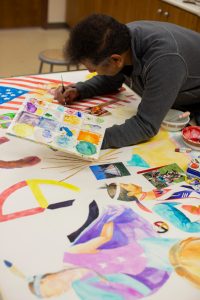 "It's a collage of many images," said Dave. "We used photos of past powwows to put it together because we wanted actual students from St. Joseph's and we wanted art the kids could relate to. It includes images of a tipi, the American flag and eagle staff. It's a celebration of culture, flag, collaboration and color."
Without hesitation, Hector laid out the plan for the large painting the classes would work on. He showed students how to sketch, how to prep the paper for the watercolor paint by wetting it and, finally, how to let the paint react with the paper and the water to go where it would go.
The paint itself turned out to be a fitting metaphor for the students' work with Hector.
"Creating art and teaching require a lot of preparation," said Dave. "Hector and I prepared our young collaborators by giving them the skills they would need to participate. In watercolor painting, there are times when you have control over where the paint goes and times when you let go of that control – again, very much like teaching. When the brush touches the paper, the paint doesn't hesitate; it flows and spreads. It's beautiful and that is what it is like to see your students so engaged."
Hectors initial sketch set the tone for the week. The drawing was large with a lot of detail – it would be a difficult for a professional artist to complete a watercolor painting of this size in a week. But that didn't dampen Hector's enthusiasm – he presented the challenge and showed confidence in the students.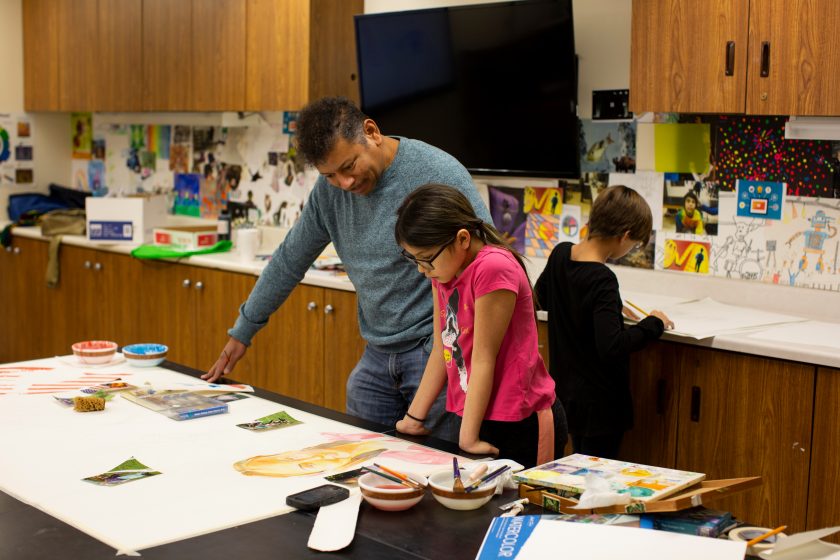 "The students really rose to Hector's expectations," said Dave. "They were amazing, especially the level of concentration they showed for students this young."
When Hector works in a classroom with students, he hopes to inspire them.
"I want them to figure out how to overcome barriers," said Hector. "I want to show them they can accomplish anything through persistence, practice and consistency. And especially that they should dream big!"
This program is sponsored by St. Joseph' Indian School, with support provided by the South Dakota Arts Council with funds from the State of South Dakota, through the Department of Tourism and the National Endowment for the Arts.