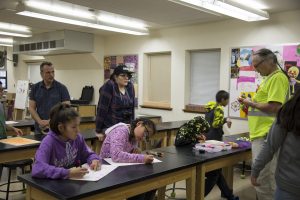 St. Joseph's Indian School hosts four to five artists throughout the school year to work with our students. For about a week, an artist with unique talents joins students on campus to teach them about their area of expertise. The program is sponsored by the South Dakota Arts Council's Artists in Schools & Communities program.  South Dakota Arts Council support is provided with funds from the State of South Dakota, through the Department of Tourism, and the National Endowment for the Arts.
Most recently, students learned how to create black light art. Read on for a look inside the classroom during the visit from Bob H. Miller, a visual artist with over 40 years of experience.
__________________
"Alright, everyone! We've got some really interesting pieces of art here. Let's head to the black light room!" said Bob H. Miller, calling for attention from the class of fifth graders.
Students eagerly jumped out of their seats and started lining-up to view their highlighted pieces of art jump just as vividly off the white pages in their hands.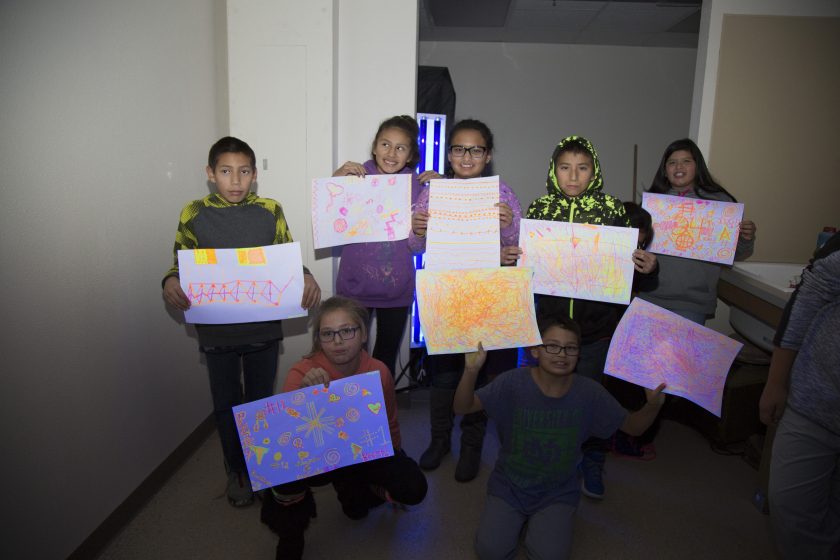 A chorus of "ooos" and "ahhs" filled the room once Bob turned on the black light. Students also noticed some of their clothing glowed – a fun surprise.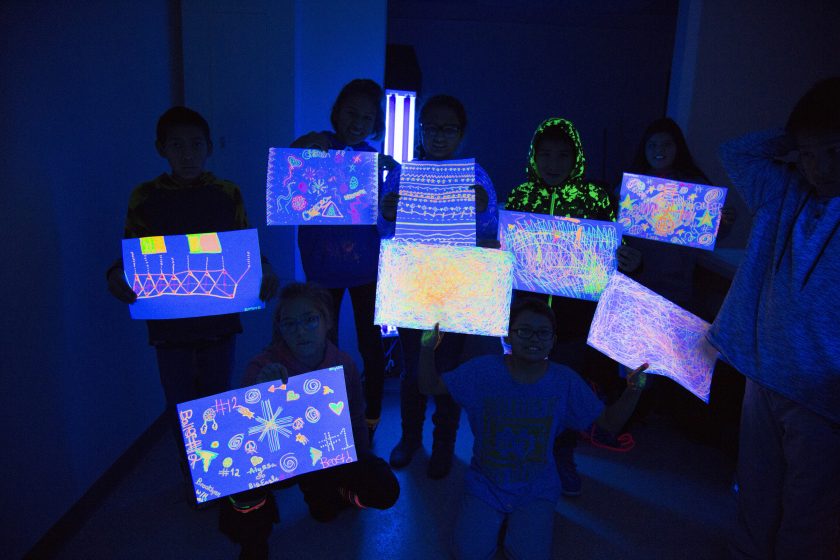 It was a sound that brought a smile to Bob's face. It's why he likes to teach students about art in unique mediums – to help them discover how art can look like one thing, but then another depending upon how it's viewed.
This isn't Bob's first visit to St. Joseph's, as he comes to share his artistic talents with students approximately every five years. He chose black light art during this visit for reasons leaning toward nostalgia.
"I wanted to do black light art with these students because when I was their age, that's the kind of art I liked – how it looked one way in regular light, but then completely changed under black light," said Bob. "That's why I loved it and still do."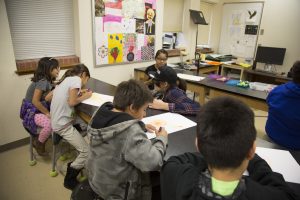 Before the students went into the black light room, Bob explained different elements students could incorporate into their designs, such as shapes and lines. However, he never showed students an example of his own work. Often, students are tempted to copy elements from an example. Therefore, Bob didn't provide any examples so the designs can be completely true and unique to each student.
So, left to take their own roads to creativity, the students used highlighters in neon orange, pink, yellow and green. Soon, the blank, white sheets of paper were filled with hearts, zig-zag lines, stars, suns and many other elements.
From the reactions of students, the black light art sparked similar feelings to those Miller experienced himself growing-up.
"I really liked this project because I like to be creative," said Landon, a fifth-grade student. "I've never done anything like this before, but now I want to do it even more."
For Bob, it was mission accomplished.