Greetings! My name is Bette. My husband Mike and I have recently moved to South Dakota to work as houseparents for St. Joseph's Indian School. It has been a joy working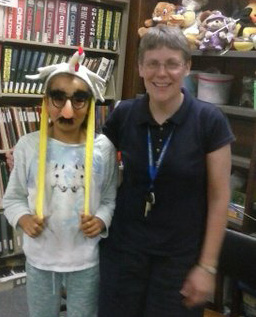 here in the summer break home. The students attend school for a few hours each morning and then our afternoons are filled with many fun activities.
We have students in our break home who will be in the second grade through ninth grade next year. Some of the younger students have enjoyed weaving potholders and some of the older students have learned how to make knitted hats using a round loom. Everyone has enjoyed making muffins and sugar cookies from scratch.
One student recently celebrated a birthday, so we had the joy of giving her a party complete with cupcakes and candles and party games. We also made homemade ice cream by shaking cream, sugar and vanilla in a baggie surrounded by ice.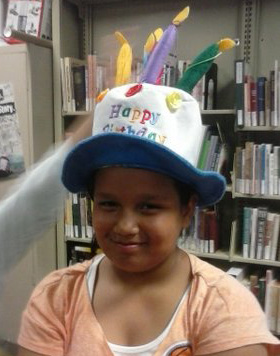 Some of the students guessed we were making cheese, but we kept it a secret to the end. We shook the bags for about 10 minutes – there were a lot of sore arms, but it was worth it when they got to taste the final results!
In the past few weeks, we have gone to the movies, had a picnic, gone bowling and, of course, out to Dairy Queen and McDonald's for ice cream on a warm day. There are a lot of activities planned for the Fourth of July including a parade, car show and rodeo here in town. Next week, there will be a special party to celebrate the last day of school (I know the students will feel sad and need some cheering up – ha ha!).
The students have also attended our local library's summer reading program. This year they have a super hero theme. One student was overheard saying this was "way cool"
as he designed his very own super hero shield and decorated it with stickers. They got to perform superhero dances, listen to stories and make special masks as well.
One very busy spot has been our Chamberlain Community Pool. It received a face lift this spring with the addition of a 100 foot curvy slide and a water basketball hoop. It has kept our kids very happy on warm days!
There is a playground right next to the pool, so the students have the best of both worlds. When we are not at the pool, students can often be found riding their bikes around campus or using a scooter or two.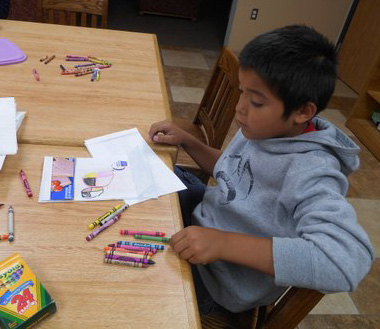 Our students truly have warm, giving hearts and have embraced the idea of helping with our local Relay for Life this year. We are assisting with the decoration of the paper bag luminaires that will light the pathway during the Relay.
The students listened to a story that was written by a young child diagnosed with cancer to gain a better understanding as well as increased empathy for those undergoing treatment.
Mike and I have been proud of the amount of care and attention that each bag has received. The kids really want to do a great job in making these special for the recipients. We have about 200 bags to decorate and are almost finished.
Thank you for allowing me to share some of the activities that have gone on here in the summer! The summer break home has been an eventful place filled with wonderful memories of a summer spent with beautiful kids.
Bette
Houseparent