Good day from St. Joseph's Indian School.
It has been a busy, and snowy, last few days at St. Joseph's Indian School.
On Friday, we were scheduled to send 12 hand game participants and 17 archery contestants to Rapid City, South Dakota to take part in the 40th Annual Lakota Nation Invitational (LNI), but the roads were projected to be too dangerous to travel. LNI is a yearly gathering of Native Americans to take part in arts and crafts competition along with athletic, cultural and language contests.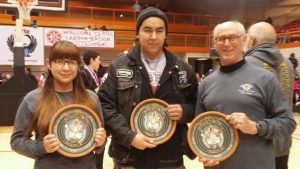 Our Knowledge Bowl participants headed out on Thursday, so they were able to compete over the weekend. St. Joseph's team earned 3rd place overall! Lily and Justin, two of our high school students, were awarded 1st place
in Grammar and Literature, respectively. We are so very proud of them.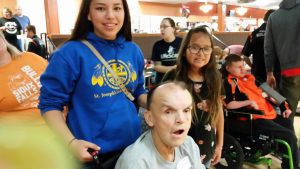 St. Joseph's National Honors Society students recently assisted our local Special Olympics bowlers as they took part in regional and state tournaments. Our students had a lot of fun assisting the bowlers with their wheelchairs and bowling balls.
After the season ended, the bowlers and their families invited our students to dinner. During the course of the meal, our students were applauded and told by the Special Olympics athletes that they could not have won so many gold, silver and bronze medals without their help.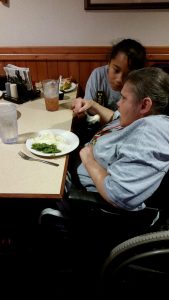 At the end of last week, St. Joseph's best spellers from each class (except the 1st and 2nd graders) took part in our annual Spelling Bee. Those who were deemed 'best spellers' will soon participate in a regional spelling bee competition in Mitchell, South Dakota. Through their performance in Mitchell, they can possibly even qualify for state and national spelling contests!
St. Joseph's has been involved the last several years and had some good success last year, which we hope to build on this time around. Aside from competing, the students enjoy having the chance to stop at a local Pizza Ranch for lunch in Mitchell during the trip.
The basketball season has wound down for our young ladies here at St. Joseph's, but is just getting going for the Chamberlain High School teams. Due to some odd scheduling, the girls have only had one home game thus far and the boys will not be having their home opener until after Christmas.
We have a number of St. Joseph's high school students involved as players, cheerleaders and statisticians. The boys' team took 4th place at the state tournament last year and are hoping for similar success this time around!
While it is good to be ready for Christmas externally—baking, decorating, shopping and sending out Christmas cards—it is also important to remember Jesus is the reason for the Season and we need to make sure there is room for Him in our hearts.
Merry Christmas from all of us to you.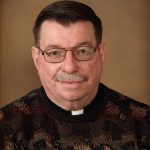 Fr. Anthony Kluckman, SCJ
Chaplain