St. Joseph's fourth graders took their class trip to Pierre, South Dakota.  Each year, Pierre puts on a South Dakota History Adventure with a grant from the South Dakota Humanities Council.  In the past, we have gone to the Casey Tibbs Museum and the Buffalo Interpretive Center operated by the Lower Brule Sioux Tribe. This year, the trip's focus was on water.
After leaving St. Joseph's Indian School and making the 85 mile trip to Pierre, we began our day on the river.  We were the first boat ride on the Missouri for the day! It was a bit chilly, but fun.  Our guide talked about tributaries, the change of the river since the 2011 flood, and pointed out different landscapes along the way.  In years past, we have had it rain (and even spit snow) so sunshine was good, despite the chill.  For a few of the Lakota boys and girls, it was their first boat ride, which always makes the day more special!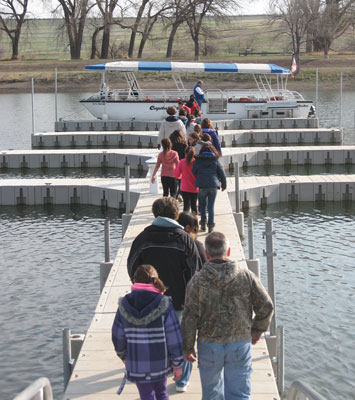 From the boat, we did outdoor activities.  Our class was split into two groups.  My group got to look in water pulled from the river for bugs!  The students used spoons and a tiny syringe.  They found worms, a snail, and many other bugs on her list.  They concluded that the water they pulled the samples from was not healthy water because the bugs that live there are the ones that can live in unhealthy water.  The other group hiked along looking for things in nature that depend on water.  They got to use magnifying glasses and then wrote about what they saw.
Our third activity was the Planetarium at the Pierre Discovery Center. Afterwards, it was Pizza Ranch pizza in the park.  Again, sitting in the sunshine was a real treat!
After lunch, our last event of the day was the Cultural Heritage Museum. After an activity about landscapes, we had free time to look around the museum. Students could milk a cow, ride a train, listen on an old operator station, or view the many displays.  It was hard to round them up to leave!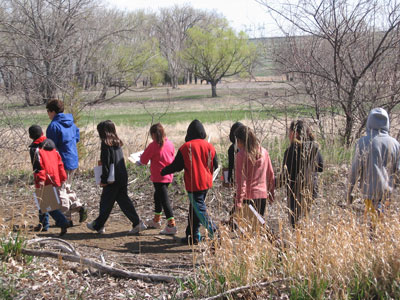 Most slept all the way home.  It was a great day, with lots of activities and fun!