Friday
Chamberlain High School used St. Joseph's Rec Center for a feathering ceremony honoring 13 Native American students enrolled in area tribes who will graduate this weekend. Five were our own St. Joseph's students. Wayne Two Hawks, a Crow Creek elder, gave some instructions to the graduates about what an honor it is to receive an eagle feather, and now it was up to them to wear it proudly by choosing a good path through life.
After a ceremonial blessing song, everyone in attendance filed past our young graduates and shook their hands or gave hugs to wish them well. St. Joseph's drum group, the Chalk Hills Singers, sang an honor song as well. The students presented Allan, the principle, with a lovely Lakota star quilt to thank him for the support he's been during their years at the high school.
Our five high school homes have emptied out, and all the students are gone for summer vacation. For most, it will be a short one, as many of our students will return after Memorial Day for driver's ed, summer camps, or independent living where they stay on campus and take care of their own cooking and meals and work a job to put away some savings for the future.
Saturday
The Cyr Home (4th-5th grade boys) invited me to tag along with them on their last outing of the year. We loaded up one of our white St. Joseph's mini buses in the morning and headed east to Mitchell, South Dakota. Instead of a video to pass the time, houseparent Odis pulled out his I-Pad, which had some games loaded on it. Six of us passed it around and played the computerized version of Risk, a game I would often play with my brothers and cousin into the wee hours of the morning, trying to conquer the world. It was fun to relive those times and not have to worry about wooden pieces falling off the board in a moving vehicle.
We ate at a Chinese buffet. Paula, one of the houseparents, encouraged the boys to try some new things. She recommended just taking small amounts, and if they liked it, go back for more. Two students were brave and followed Odis' lead by slurping down an oyster, but the faces they made while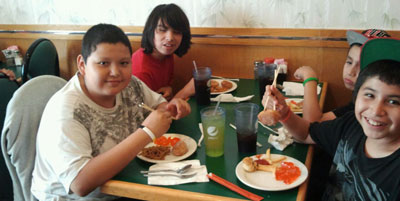 swallowing them showed they were not interested in seconds at all. They boys had fun trying to get their fingers to work the chopsticks. I've never seen anyone eat orange jello or ice cream with chopsticks before!
We watched the new Star Trek movie (I've long been a fan of all the Enterprise and crew), then enjoyed a nice afternoon at the park. Mitchell has a Frisbee golf course, which I'd never tried, but we had lots of fun. The first couple of holes took forever, but then we decided to play best ball rules – everyone getting a chance from wherever the best throw landed. That moved things along better. No one worried about keeping score and everyone had some best throws.