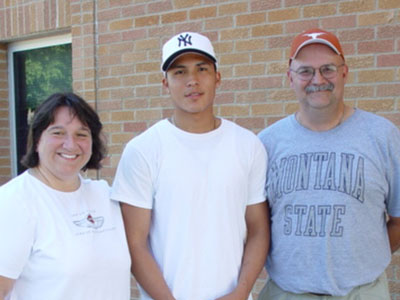 When one has worked in residential care for a considerable amount of time, there comes an opportunity to see and hear about the growth of a child who was once in your care.
I'm Maija and I was recently blessed to experience such an opportunity here at St. Joseph's Indian School when former student, Leighton, visited. He spoke with St. Joseph's high school students during the Sons & Daughters of Tradition group.
Back in the 1990's, I was a houseparent with Andy in the Speyer Home. Our home was filled with the energy and enthusiasm of twelve seventh and eighth grade Lakota (Sioux) boys! They filled our lives with joy, challenges, and sometimes angst! Leighton was one of those boys.
Leighton spoke to St. Joseph's current students about his time here; how he learned about discipline, making good decisions, and being cared for by good people.  He shared some stories of his enlistment in the Army – exactly thirteen days before the tragedy of 9/11.
He told them about being in Iraq and serving as a guard at the funeral for Saddam Hussein's son. He recalled the time an explosive device meant for his convoy was run over by a bus instead… a bus that had cut in front of them just minutes before. He spoke of how we take so much for granted in the United States. Things like running water, electricity, freedom.  He spoke with the students about the importance of staying in school, getting a good education, and serving their country.
The students had many questions for Leighton. They asked what sports he played while he was at St. Joseph's, what his favorite memory was. They asked about the war and his job while he was in the Army, and about where he lives and his family.
When we wrapped up things for the evening, I couldn't help but feel like a proud parent.  It took courage for Leighton to open himself up to a group of high school students who are just waiting for the school year to end. It was apparent they felt a connection with him and appreciated his openness, sincerity, and honesty.
Leighton has had many ups and downs since the time he attended St. Joseph's. He lost a sibling in a car accident, served his country, struggled with the after-effects of witnessing some horrific events during wartime and is the proud father of two small children.
He is finding himself and looking for an opportunity to do meaningful work and give back.  Whatever he does, whatever direction he goes, he will always know he has the support of his family here at St. Joseph's Indian School.