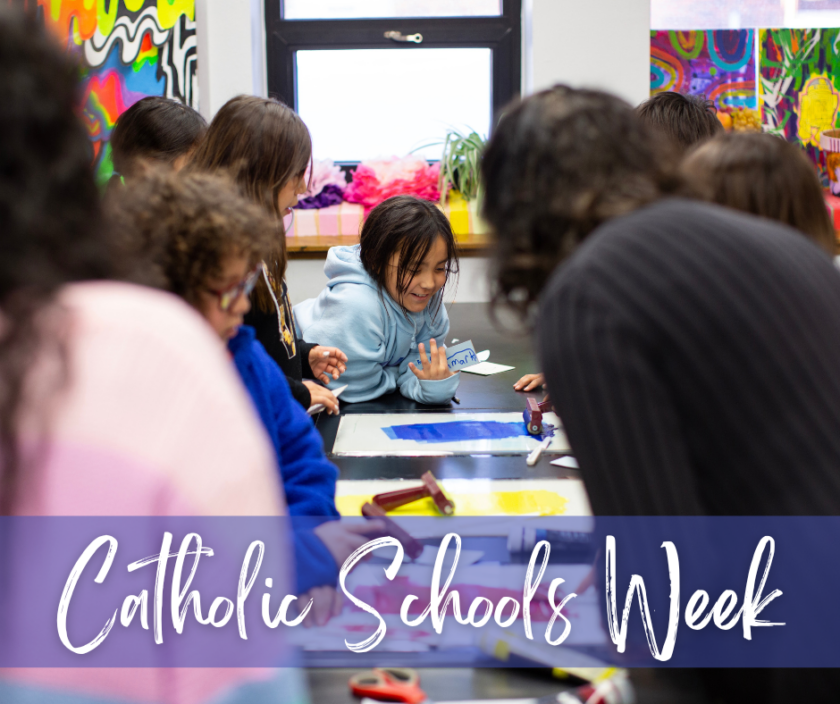 St. Joseph's Indian School students enthusiastically joined nationwide Catholic Schools Week. Beginning January 30, the school and others across the country observed Catholic education's value.
Students celebrated the theme, "Faith, Service and Excellence."
Faith through a prayer service Tuesday morning and The Liturgy of the Hours throughout the day Thursday.
Service through an annual food drive to support James Food Pantry.
Excellence in education through a Young Authors/Young Illustrators competition; a spelling bee; the art of printmaking with visiting artist Michele David Mechling; and an I-Spy game created around the murals on the front of the school building. These were designed by Brother Bonaventure, SCJ, and depict the interaction between Catholics and the Lakota people, the Lakota way of life and spirituality and the school's founding. An archery challenge finished the week.
At the kickoff prayer service, Joe, Mission Integration Director and Chaplain Fr. Greg Schill, SCJ, spoke about the unique value of education in an environment infused with spirituality. Tyrell pointed to reminders that surround students throughout the day, including crosses, sacred smudge, statues and more. He assigned a saint to each grade and asked students to think about how these persons might be like a "phone-a-friend," interceding to God on students' behalf and in light of the unique but ordinary lives they led.
The campus-wide food drive organized by fourth through sixth graders brought in several large totes full of donations.
Mechling conducted classes on "the versatility of printmaking" for first- to fourth-grade students. Her encouragement was lavish. "Get whimsical." "Have a good time." "You can't mess up."
The children "carved" printmaking plates with their pencils, learned how to roll and apply ink and transferred dream-catcher images onto canvas shopping bags.
Students spontaneously affirmed their results, saying, "I think it looks perfect." and "This is cool."
Fourth-grader Kamden was more practical in his assessment, saying, "I think I am going shopping today."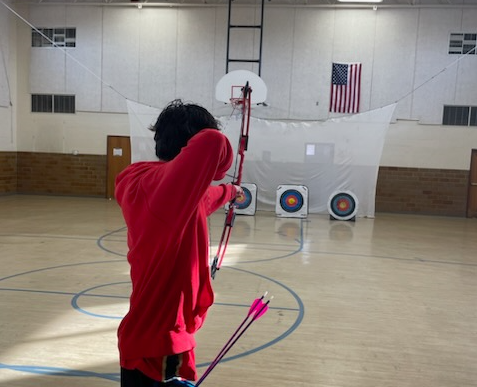 The St. Joe Archery Challenge capped the week on Saturday. Fourth- through sixth-grade boys placing in the competition were Tyree – First, Shawn – Second, and Kyler Honomichl – Third. Winning fourth- through sixth-grade girls were Tristine – First, Deveah – Second, and Aleighya – Third. Winning high school competitors included Swede Lind – First, Juliana – Second, and Leslie – Third.