Greetings from a chilly Chamberlain!
Throughout the school year, St. Joseph's high school students visit various colleges and trade schools as they consider their future. Last week, several or our seniors, juniors and sophomores traveled to the University of South Dakota to learn more about the campus and classes offered there.
On the trip to USD, our students were thrilled to catch up with St. Joseph's alumni Errol and Wyatt, who graduated in 2014 and now attend the University of South Dakota. It was great to have their insight about the transition from high school to college. Thanks guys!
You may have heard about the recent difficulties at Chicago's airports. The ripple effect of this disruption in air travel made it all the way to South Dakota. Our team going to the donor luncheon in Chicago this past weekend had their flight cancelled. In an effort to keep our scheduled events, the decision was made to drive to Chicago.
Everything went great!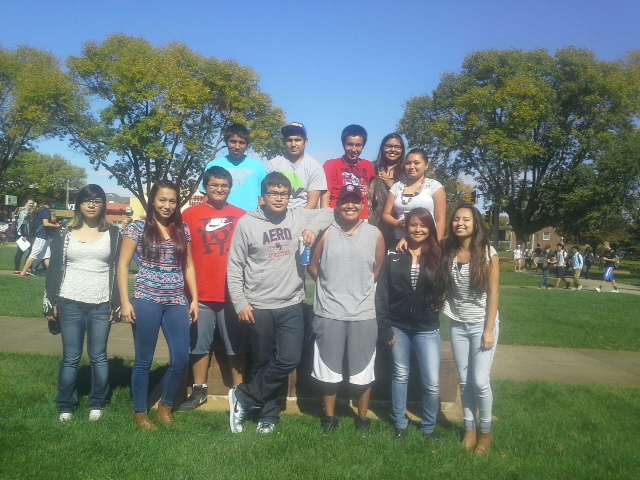 Justina and Treyah did a great job speaking to our donors. The trip was made extra special by a visit from Fr. Steve Huffstetter, SCJ, past Director of St. Joseph's and our current Provincial Superior. He joined the team for the Saturday lunch and sightseeing. Fr. Steve grew up near Chicago and was excited to show the team the local sights.
During the donor events we hold in different cities around the U.S., two of our Lakota (Sioux) students share with our benefactors how their generosity touches the lives of the children who attend St. Joseph's.  Our next luncheon will be in San Francisco, California in January. You can register online or call 1-800-584-9200. We'd love to have you join us if you are in the area!
Within the next few days, St. Joseph's will be hosting exchange students from Germany. In June, we send a couple students to visit Germany and France. In the fall, our European counterparts become our guests and visit St. Joseph's Indian School.  They will attend a few days of classes with our students at Chamberlain High School, do some sightseeing and make a presentation of what life and school are like in Germany.
I hope that everyone has a great week.  May God continue to bless and reward you for your generosity.
Fr. Anthony Kluckman, SCJ
Chaplain